NASHVILLE, Tenn. – It didn't take Malcolm Butler long to make his presence known on the first day of Titans training camp.
Butler, signed this offseason after playing his first four seasons with the New England Patriots, wanted to face Titans receiver Corey Davis in one-on-one drills early in Thursday's practice.
"Let me show you how I earn my money," Butler shouted to teammates. "Let me show you how I earn my money."
Soon, Butler would get his chance.
The feisty cornerback lined up across from the big and physical receiver, and he backed up his words. Quarterback Marcus Mariota threw the ball to Davis as he cut across the middle of the field. Butler aggressively went after the football, and wrestled it away for an interception.
He yelled in excitement, and punted the ball into the air before he was greeted by secondary coach Kerry Coombs and his defensive teammates.
"The first day is about going out, showing what you can do, and showing what you are made of," Butler said. "I mean, first impression is a good impression, but you have to keep rolling. I just want to set the tone, and try and make good plays."
Butler admitted after practice he still hasn't forgotten last year's playoff game between the Titans and Patriots.
Davis caught two touchdown passes while working against Butler that night.
"I love my boy Corey, man," Butler said. "But I told him: 'I have to get him back from the playoff game.' Yes sir. But that's something I have to do every day, not matter what the situation is. You just have to go out there and compete."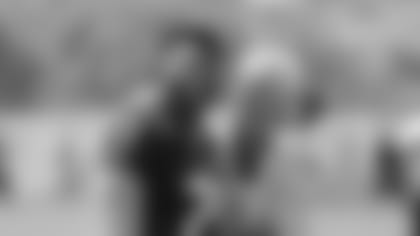 Butler admitted after practice he's extra juiced heading into the 2018 season.
He's motivated to prove his worth to his new team, and his departure from the Patriots is fresh in his mind as well. Butler was benched in last year's Super Bowl.
"I've always been this way, but I have a little extra gas in the tank," Butler said. "I am just here to help my team win, and I am going to do anything I can to help us win."
The Titans take the field for the opening day of training camp on Thursday, July 26, 2018 at Saint Thomas Sports Park. (Photos: Donn Jones, Gary Glenn, AP)