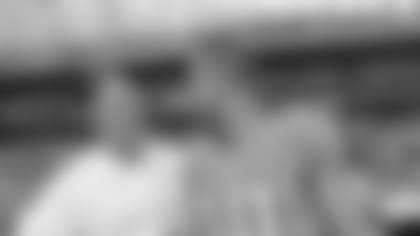 ](http://www.titansonline.com/media-center/photo-gallery/Picked-at-8-Guard-Mike-Munchak--Quarterback-Jake-Locker/7b5802de-c3ac-425c-9aeb-d55394075e7f)
Titans coach Mike Munchak, a Hall of Fame guard, and quarterback Jake Locker are the only two players the franchise has drafted from the eighth spot of the NFL Draft. Click here for a slideshow of their careers.
The Houston Oilers held the spot in the 1982 draft and selected guard Mike Munchak, and the Tennessee Titans held the same position in 2011 — Munchak's first season as head coach — and selected quarterback Jake Locker.
Munchak became the first player selected in the first round by the franchise since Earl Campbell was drafted first overall in 1978. The selection of Munchak also marked the first of three consecutive years in which Houston drafted an offensive lineman in the first round (Bruce Matthews at ninth in 1983 and Dean Steinkuhler at second in 1984).
Munchak played in four games in his rookie season, which was shortened by a strike, and became a perennial starter and Pro Bowler. Munchak's 12 seasons with the Oilers is tied for the fourth longest tenure by a player in franchise history and included 159 games (seventh most in franchise history).
He earned nine Pro Bowl selections (seven in a row), ranking second in franchise history behind Matthews in both categories. Munchak and Matthews were members of Oilers teams that struggled in their first few seasons but emerged and went to the postseason an unprecedented seven straight seasons (1987-93).
When chronic knee problems led to his retirement from football after the 1993 season, Munchak stayed with the organization as an assistant coach and worked his way up the ranks. He was inducted to the Pro Football Hall of Fame in 2001.
Locker is preparing for his third pro season and second as the starting QB of the Titans and has shown an ability to spark big plays with his feet and arm.
He has been rehabbing from shoulder surgery he had in January to repair an injury that he suffered in the 2012 season opener and again in the fourth game of the season, which caused him to miss the next five games.
Locker showed toughness and resolve in returning to the lineup Nov. 11 in a win at Miami. He went 3-4 as a starter in the final seven games of the season, despite a multitude of injuries the Titans suffered on offense.
The Titans have used free agency to add Andy Levitre, Rob Turner and Chris Spencer on the interior of the offensive line, and general manager Ruston Webster said the offensive line will likely be an area of focus in the NFL Draft. The Titans have the 10th overall pick in this year's draft on April 25 and are scheduled to make nine selections during the three-day event. Click here to visit Titans Draft Central.