NASHVILLE, Tenn. —The Titans/Oilers have selected from the sixth spot in the NFL Draft three times and chosen a defensive player each time.
The Houston Oilers drafted defensive end Greg Sampson out of Stanford in 1972 and linebacker Robert Brazile out of Jackson State in 1975, and the Tennessee Titans defensive back Pacman Jones out of West Virginia in 2006.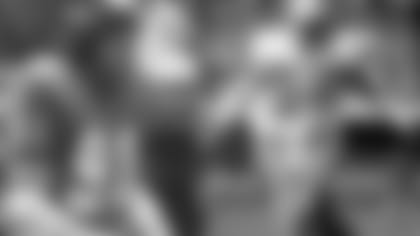 The Houston Oilers selected Greg Sampson in 1972 and Robert Brazile in 1975 with the sixth overall picks.
The Oilers gained the sixth pick in 1975 along with defensive tackle Curley Culp in a 1974 trade that sent John Matuszak (who had been drafted first overall in 1973). The trade significantly benefitted Houston: Brazile made seven straight Pro Bowls and was named an All Pro twice, and Culp made four straight Pro Bowls and was elected to the Pro Football Hall of Fame in February.
Brazile's seven straight Pro Bowls are tied with Titans coach Mike Munchak for second in franchise history, and he started 147 consecutive games, never missing an opportunity to suit up in 10 seasons.
Nicknamed "Dr. Doom" during his playing days, Brazile also ranks second in franchise history (since 1974) with 1,281 tackles, ninth in tackles in a season (185 in 1978) and seventh in sacks (48). Brazile retired in 1984 after his wife died tragically in a car accident.
Many in the football world say Brazile was the first version of Hall of Famer Lawrence Taylor (1981-93), who recorded 132.5 sacks while rushing from outside linebacker. He was a major player in the Luv Ya Blue! era when the Oilers made two straight trips to the AFC Championship.
Although Sampson was drafted as a defensive end, he moved to offensive tackle in 1974, emerging from a reserve role to starting all 14 games in 1975 and '77. Sampson played in 93 games for the Oilers but his career ended in 1979 when he suffered a blood clot after a hit on the practice fields.
After the franchise's relocation and a rebuilding season in 2005, the Titans tabbed Jones at the sixth spot 31 years after Brazile. Jones provided a quick impact before off-the-field issues ended his time with Tennessee.
Jones started 28 of 30 games as defensive back and was a dynamic player on special teams. He returned 63 punts for 712 yards and four touchdowns and 63 kickoffs for 1,648 yards.
Jones led the NFL with three punt returns for touchdowns and in yards per return (12.9) in 2006. Jones also recorded four interceptions in 2006, including one he returned 83-yards for a touchdown, but repeated off-the-field incidents led to his suspension from the NFL for all of 2007. The Titans traded Jones to Dallas in 2008 for a fourth-round pick they used to select Lavelle Hawkins at 126th overall. The Titans have the 10th pick in this year's NFL Draft on April 25 and are scheduled to make nine selections during the three-day event. Click here to visit Titans Draft Central.