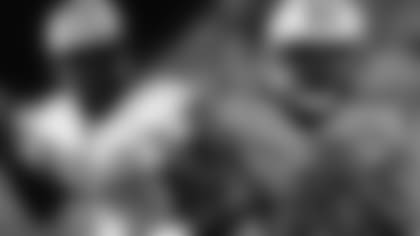 ](http://www.titansonline.com/media-center/photo-gallery/Picked-at-20-Haywood-Jeffires--Kendall-Wright/88552e9d-7b45-4bb8-9c08-56c2c28e2459)
The Titans/Oilers franchise selected Haywood Jeffires in 1987 and Kendall Wright in 2012 from the 20th overall spot. Click here for a slideshow from their careers.
Jeffires ranks second in franchise history with 515 catches for 6,119 yards (fifth-best in team history). He also ranks tied for second with 47 touchdown receptions.
The Greensboro, N.C., native who attended N.C. State proved that determination can overcome a slow start to a career. He made one start in nine games as a rookie, catching seven passes that season for 89 yards. Jeffires only made two catches in two games in his second season, but emerged as a target for Warren Moon by his third campaign (47 catches, 619 yards, two touchdowns) and kept getting better.
Jeffires led the NFL in receptions with 100 catches in 1991, earning All-Pro status and the first of three consecutive selections to the Pro Bowl.
Wright made an impact more quickly in the NFL and wants to keep increasing that with the Titans. He tied for the rookie lead in 2012 with 64 catches.
The Pittsburg, Texas, native who attended Baylor tied for the Titans team lead with four touchdown receptions and ranked second on the team with 626 receiving yards. Wright started five of the 15 games he played, missing a late season contest at Green Bay.
Wright showed composure and consistency last season for a team that dealt with injuries to starting QB Jake Locker and the offensive line and experienced an in-season change at offensive coordinator from Chris Palmer to Dowell Loggains. Wright is expected to be a significant part of the Loggains' plans for 2013.