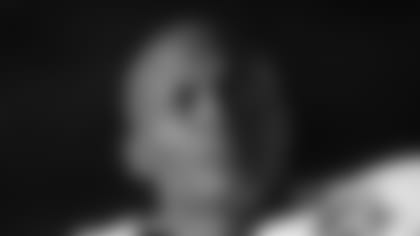 Prior to what would become their final season in Houston, the Oilers maneuvered from the ninth pick to the 17th pick in a trade with Oakland and back up to 14th after a trade with Seattle to select running back Eddie George in 1996.
Few players fit an offense and organization in a certain timeframe as well as George. His powerful running wore down defenders and helped Oilers and Titans teams control the clock. He provided tremendous consistency as the team played home games in four different stadiums in his first four seasons.
George's uncanny durability — he never missed a start in 128 games in eight seasons — enabled him to become the franchise leader in career rushing yards (10,009), yards from scrimmage (12,153), combined yards (12,153), total touchdowns (74), attempts (2,733) and seasons with more than 1,000 yards rushing (seven).
The Titans did not draft another running back in the first round until 2008 when they selected Chris Johnson at the 24th overall spot. Johnson has a completely different build and style than George but has 6,888 rushing yards, 8,546 yards from scrimmage and 48 total touchdowns in five seasons. George and Johnson got together last August for a special episode of Titans All-Access (that can be viewed in the video).
The Oilers also used the 14th spot to draft a running back in 1973 when they tabbed George Amundson out of Iowa State. Houston, which also had the No. 1 overall pick that year (DE John Matuszak), acquired the 14th pick from Atlanta in a trade for DT Mike Tilleman.
Amundson played in 23 games in two seasons for the Oilers, rushing 74 times for 194 yards and four touchdowns. He added 25 receptions for 212 yards and a TD catch. He was waived during the 1975 preseason.
The Oilers drafted Doug Wilkerson, a guard from North Carolina Central at 14 in 1970. Wilkerson played in nine games in his rookie season before he was traded to San Diego in December for tight end Willie Frazier, who had been with the Oilers 1964-65. Frazier made the American Football League's All-Star Game in 1965 when he caught 37 passes for 521 yards and eight touchdowns. Frazier was then traded to Kansas City during the 1971 season, when Wilkerson became a 14-year starter for the Chargers. The Titans have the 10th overall pick in this year's NFL Draft on April 25 and are scheduled to make nine selections over the course of the three-day event. Click here to visit Titans Draft Central.