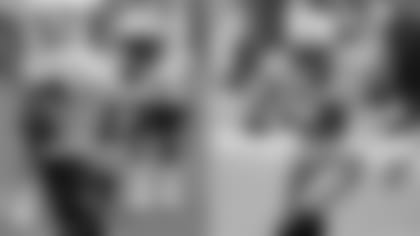 NASHVILLE, Tenn. — First-round draft pick Kendall Wright will play the "X" position among receivers in the Titans offense this season, offensive coordinator Chris Palmer said Wednesday.
Wright will play the same position that 2009 first-round draft pick Kenny Britt has generally played. The decision, Palmer said, was based on trying to do what is best for Wright's development.
"We've put (Wright) at the "X" position," Palmer said. "That's the position that Kenny Britt plays. (Wright will) grow from that position into playing other positions. (Receivers coach) Dave Ragone and I talked about it. Dave really wanted to play (Wright) at "Z," but when we left the rookie minicamp, Dave realized that this is the best for the player. Those are things that old coaches learn through the years and can impart to the younger catches."
Britt has demonstrated explosive play-making abilities. He led the AFC in receiving with 271 yards and had three touchdowns after the first two games in 2011, but his season came to an abrupt end in the third game when the receiver tore his ACL and MCL.
"We tried to move him around a little bit in different formations," Palmer said. "This game, the NFL game, is all matchups. Who is better than who? The problem is if you put two good guys on that side, they roll the coverage and take all that stuff away. Both guys will be moved around, but they may be playing the same position."
Wright demonstrated similar explosiveness in college in setting Baylor career records in receptions (302), yards (4,004) and touchdowns (30), but the Bears did not use a playbook.
Palmer said the situation reminded him of his time as quarterbacks coach of the New York Giants (2007-2009) when Mario Manningham was a rookie in 2008. Palmer said the Giants tried to put Manningham at multiple different positions in his first season and it may have slowed his progression. Manningham had four catches for 26 yards in his rookie season, but emerged with 57 catches for 822 yards the following year.
"He didn't comprehend it as quickly as you would like, and he didn't play until his second year and third year and became a very, very good player," Palmer said. "That's one of the things that a lot of guys try to play guys in positions and make them learn and it slows down the learning process of the player. I think you're better off making it simple and putting him in a position where you tell that position 75 percent of the time what route to run so it's hard to screw up."
Palmer said he wants Wright and Britt available on the field as often as possible.
"I'm a much better coach with those guys, I can tell you that," Palmer said. "I've learned if you have good players, you're a much better coach because at this level, everybody is a good coach."