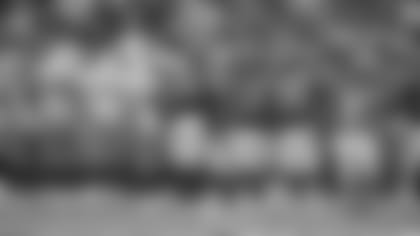 A victory against Houston would give the Titans a chance at the playoffs for the first time since 2003.
NASHVILLE, Tenn. — The Tennessee Titans are getting inspiration from the Green Bay Packers of a season ago in their improbable bid for the AFC's final wild-card spot.
Just as Green Bay did a year ago, the Titans (8-7) are trying to win their final two games to reach the playoffs while needing plenty help from other teams.
Last week, first-year coach Mike Munchak used the Packers' story — that ended with a Super Bowl championship — as a reminder of how to handle this situation.
"They didn't control their own destiny," Munchak said. "They went on to win about, oh, I don't know, about 20 games in a row or so. They see that. I think a lot of people forgot that, the situation they were in last year with two games left, and it worked out for them. So that's a nice story here."
Munchak's Titans are heading to Houston (10-5) to try and win Sunday, the only piece of the AFC puzzle they control. Munchak says then they can sit back and see if one of three needed scenarios fall into place.
The Texans can do nothing to change their spot as the AFC's No. 3 seed. If Tennessee gets the help it needs and lands the sixth seed with the final wild-card berth, then the Titans would be flying right back to Houston for a wild-card game. Munchak said Tennessee will hold nothing back in case of a possible rematch.
"We hope that we have that problem, that we have to reorganize for that one," Munchak said. "We'll take that gladly. So we're going to do everything it takes to win."
Even if the Titans win, they must hope for one of three scenarios to happen.
In all three, they need Cincinnati (9-6) to lose to Baltimore. Then they need either the Jets to win at Miami with the Oakland Raiders losing to San Diego, or a Jets' win and Denver losing or tying Kansas City or lastly the Jets losing or tying Miami while both Oakland and Denver win.
Tennessee can't win the second wild-card spot if there is a four-way tie.
Only the Jets' game will kick off at the same time.
Quarterback Matt Hasselbeck said they got a reminder Monday that the only game that they can control is their game, but the opportunity for a playoff berth raises the intensity level. They could be haunted by losses to Jacksonville in the opener, a blown-lead to Cincinnati or to the previously winless Colts.
Now they have one win to possibly reach the playoffs, and that Packers' run provides the reminder it is possible.
"It's just good to see," Hasselbeck said. "It gives you a boost of morale in a sense. It doesn't matter what happened in the past. What matters is what happens in the future. It's all there for us, if we're able to take care of business."
Hasselbeck is a big reason why the Titans remain alive. He just turned in his second-best game this season when many fans were calling for rookie Jake Locker to get his first start. Hasselbeck threw for 350 yards, completing passes to six different receivers in a 23-17 win over the Jaguars.
The Titans produced nine plays going 16 yards or longer, and all came through the air off Hasselbeck's arm. He credited the offensive line for protection, and the Titans rank first in the NFL in fewest sacks allowed per pass play. Hasselbeck has been sacked only 16 times this season with 21 sacks allowed overall.
"That just puts a lot of pressure on them," Hasselbeck said of throwing so much.
The Titans should head to Houston pretty healthy. Chris Johnson ran for only 56 yards in the win over Jacksonville with a sore right ankle Munchak expects to be better this week. Munchak also expects defensive end Jason Jones (ankle) and receiver Lavelle Hawkins (ankle) to recover, at least by Friday.
If Munchak wants a closer example of why the Titans should focus only on Houston, he need only point back to 2006.
That year, the Titans went into the final game 8-7 hosting New England in a must win game. To go from an 0-5 start to the playoffs, they also needed Jacksonville, Cincinnati and Denver to lose. Well, the only piece the Titans couldn't deliver on was the one piece of the puzzle they controlled. They lost only to watch the other three games all go exactly as they had needed.
"It'll be exciting," Munchak said. "It should be. Again, we still have a great shot we feel, and we still have a great chance at a very good football season no matter how it shakes out, and we'd like to finish with a big nice win in the division."