NASHVILLE, Tenn. – It was a whirlwind weekend for Titans controlling owner Amy Adams Strunk.
Strunk spent time at the end of last week at the Pro Football Hall of Fame festivities in Canton, Ohio, before returning to Nashville on Saturday to attend the scrimmage at Nissan Stadium in the evening.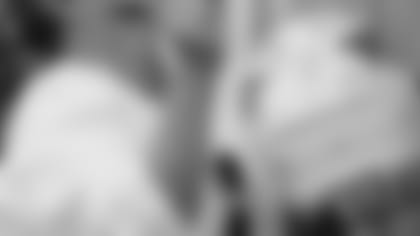 Strunk was added to the Pro Football Hall of Fame's Board of Trustees in March. Last year, Strunk was added to the NFL's Hall of Fame Committee, which serves as the liaison between the owners of the NFL and the Hall of Fame.
Members of the committee attend board meetings of the Hall of Fame and are available to the leadership to address strategic matters impacting the functioning of the Hall of Fame.
"What is going on at the Hall of Fame, it is unbelievable," Strunk said. "The new stadium, and they are building a new village. It is really going to be great.
"And being there this weekend, seeing all the gold jackets. It was so exciting to see them. I saw a lot of the Oilers, from Mike Munchak to Bruce Matthews to Warren Moon, so it was really fun to see all those guys."
It was Strunk's third time in Canton. She made her first trip there in 1985, when former Jets quarterback Joe Namath was inducted into the Hall of Fame.
"It has changed tremendously,'' Strunk said. "And the new stadium is wonderful."
Strunk said the feedback she's received from other owners and those on the committee has been great.
"I think people are kind of getting used to seeing me around, and there's a lot of buzz around the Titans," Strunk said. "I think they are seeing things are going in the right direction."
Strunk signed autographs for fans before Saturday's scrimmage, and posed for pictures with members of the military on the field. A crowd of 11,400 turned out for the scrimmage.
The Titans open the preseason on the road Saturday night against the Jets.
"Just interacting with the fans and hearing all the buzz, fans are excited about the season," Strunk said. "And I am, too."
Titans players take the field for Day 7 of the team's 2017 training camp at Nissan Stadium. (Photos: Donn Jones, Gary Glenn)