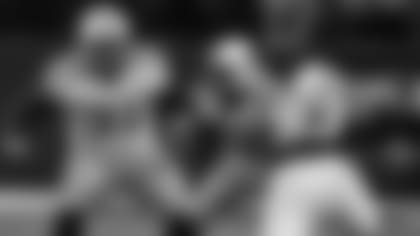 Michael Roos (71) and the Titans' offensive line are preparing for the Colts' dynamic defensive line duo of Dwight Freeney (93) and Robert Mathis.
NASHVILLE, Tenn. — Tennessee left tackle Michael Roos and right tackle David Stewart know who and what they're up against Sunday.
When Tennessee (3-3) hosts Indianapolis (0-7) at LP Field, Roos will line up against Colts all-time sacks leader Dwight Freeney, who is within reach of his 100th career sack, and Stewart will match up against Robert Mathis, who ranks second in Colts history with 77.5 sacks.
Roos said multiple things have helped Tennessee's tackles protect Titans passers in recent years. He said the familiarity that Tennessee has with Indianapolis from playing twice yearly and strategic decisions like adding help from running backs and tight ends on blocks have helped in the past.
A resurgence in the run game may offer the best help Sunday because it could slow down the Indianapolis pass rush. Tennessee's rushing offense is averaging league lows in rushing yards per game (64.3) and rushing yards per play (3.0).
"You want balance regardless," Roos said. "We need to run the ball better, and it will definitely slow down the pass rush a little bit, and we probably won't have to pass as much if we are running the ball well on first and second downs and getting short yardage on third down."
Titans coach Mike Munchak said establishing offensive balance early has been "huge" in deciding outcomes against the Colts.
"When you beat Indianapolis, it's usually because you can do that," Munchak said. "When they were winning the division the past few years, it's because they got way ahead, and their defense could do what they're built to do. They struggle a little more when you put them in a dogfight.
Munchak said the Titans' offense must be productive on first and second downs.
"You don't want to get into a situation, especially against this team, where you have a lot of third-and-longs," Munchak said. "Otherwise, you're going to be in for a long day."
Freeney has 4.5 sacks this season and 98.5 in his 10-year career. He's also forced the most fumbles (43) in the NFL since 2002. He's had success with a quick spin move on some plays, then changes his approach when an offensive lineman goes all-in on stopping the spin move.
The Titans have held Freeney to five sacks in the previous six seasons since Roos joined the team, but the seventh-year pro said Freeney's moves have always presented challenges.
"I've been embarrassed by it just like everyone else," Roos said. "I don't think there's a tackle in the league that's gone against him and not felt the wrath of that spin move, so it's a matter of being able to stay square and key what he's trying to do and be ready for it.
"You try to (predict when he will use the spin move), but then you start over-anticipating and he goes from the speed rush to the bull rush. Then you're soft and you get pushed back. There's a fine line for every play."
Titans quarterback Matt Hasselbeck said he's "anxious" for Tennessee's run game to do better. The Titans have more than 100 yards rushing in just one game this season, a 31-13 win at Cleveland, but gained a combined 119 rushing yards in their past two losses.
Hasselbeck, who signed with the Titans this offseason, has one career start against the Colts in his 13 seasons. He defeated Indianapolis in December 2005 by completing 81 percent of his passes (17-for-21) for 168 yards and two touchdowns.
Freeney played sparingly in that contest, and Mathis did not play, but Hasselbeck said he's seen enough on Freeney and Mathis during film study.
"Everyone knows about Freeney and Mathis," Hasselbeck said. "You go against the Colts, they're the first thing you talk about. They're the first thing you look at with your game plan."