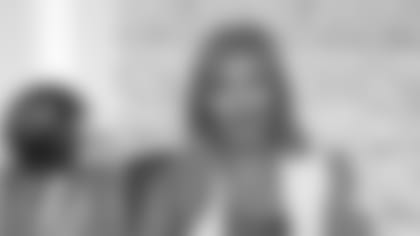 NASHVILLE – The Titans hit the field at Saint Thomas Sports Park on Monday for the ninth practice of training camp.
Here's a look at what stood out on Day 9:
-Quarterback Marcus Mariota took part in individual drills, but was pretty much given a day off after that, according to head coach Mike Vrabel. Quarterbacks Ryan Tannehill and Logan Woodside guided the team in a practice that worked a lot in situational periods. I thought Tannehill looked good, and Woodside made some plays as well as Mariota looked on.
-Receiver Corey Davis returned to the practice field on Monday after being held out over the weekend. He made a nice catch on a ball thrown by Tannehill later in practice.
-Receiver A.J. Brown did not practice, but what we saw from him was encouraging. Brown did some light jogging before practice, and he was involved with the receivers in individual drills, throwing passes to his teammates. It was a step up from what he'd done in previous open sessions.
-The first team offensive line looked like this: Dennis Kelly (LT), Rodger Saffold (LG), Ben Jones (C), Kevin Pamphile (RG) and Jack Conklin (RT).
-With Tannehill at quarterback, the Titans worked in a two-minute situation early in practice. The team put 1:25 on the clock, and the drive ended with a 48-yard field goal by kicker Austin Barnard.
-Adam Humphries, Dion Lewis, and Tajae Sharpe all had catches on the drive, the best a sideline grab by Sharpe.
-Woodside had his chance with 1:25 on the clock as well, and he completed three passes to receiver Taywan Taylor and another to Cody Hollister.
-Cornerback Adoree' Jackson ended the drive led by Woodside when he picked off a deflected pass.
-Linebacker Jayon Brown had a nice rush on another series guided by Tannehill.
-Receiver Darius Jennings, tight end Delanie Walker and Taylor all had catches in the second 2-minute drive led by Tannehill, while receiver Jalen Tolliver, Humphries and Tolliver all had catches on the second series led by Woodside.
-The Titans squandered a chance to kick a field goal in another situational period when an offensive lineman moved as Tannehill aimed to spike the ball with the clock winding down, resulting in a 10-second runoff.
-Kalif Raymond came down with the football as the team worked in a "Hail Mary" situation.
-The Titans also worked on the old Hook-and-Ladder play, but we're not giving away too much info on that one here.
-Sharpe made a nice touchdown catch on the sideline on a ball thrown by Tannehill.
-Running backs coach Tony Dews (this is not a typo) showed off some decent speed when he caught a screen pass and ran with it. Could he be a secret weapon this fall?
-Kicker Ryan Succop remains on the team's Physically Unable to Perform list, but Vrabel indicated after practice he expects to see him kick at some point in the preseason.
-Running back Derrick Henry, guard Nate Davis and defensive lineman Frank Herron did not practice.
Next practice: Tuesday, 9:50 a.m. at Saint Thomas Sports Park (Closed to fans).