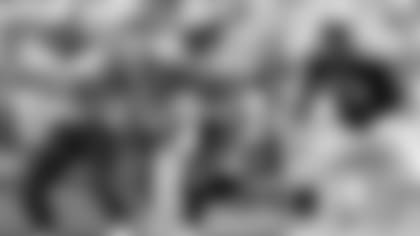 NASHVILLE – Back in the 1990s, they became Oilers, and then Titans.
After being drafted out of the Big Ten, they realized their NFL dreams on playing fields in Houston, Memphis and Nashville.
And along the way, the three Titans teammates -- Brad Hopkins, Jon Runyan and Chris Sanders – also became fathers.
This week during the NFL Draft, another chapter in their football lives will open when they watch the draft with their draft-hopeful sons, all ready to embark on an NFL career of their own.
Brycen Hopkins is a tight end who starred at Purdue. Jon Runyan Jr., like his father, is an offensive lineman who made his mark at Michigan. And CJ Sanders is a receiver/returner who began his collegiate career at Notre Dame before finishing at SMU.
"And now, this is their turn," Brad Hopkins said. "It seems like it was just yesterday when they were just kids. I remember CJ when he was little. I remember Jon Runyan Jr. crawling up Brycen's torso when he was a kid and biting him on the lip when he was one. I remember these boys when they were little, running around the locker room, having fun. So, this situation is unique, young boys who always wanted to follow in their father's footsteps, and now here they are."
The fathers, teammates on the franchise's 1999 Super Bowl team, shared their own draft experiences while also looking ahead to what it will be like watching this year's draft with their sons.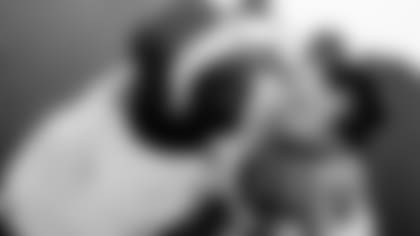 "I experienced the draft where I wanted to experience it – surrounded by the people that love me the most," Brad Hopkins said of his NFL Draft experience in 1993. "And that was at 1410 34th Avenue B in Moline (Illinois) – that's my parents' house where I grew up."
Hopkins, who played collegiately at Illinois, ended up being drafted in the first round of the draft by Oilers while surrounded by family, a handful of friends, and a few sportswriters who covered his career growing up.
"I thought I was going to be a Cleveland Brown," Hopkins recalled. "(Former Browns coach) Bill Belichick flew to Champaign (Illinois) two or three times, and he and I watched film and we stayed in constant conversation."
But the Oilers moved up in the draft to get Hopkins.
"I was anxious at first," Hopkins said. "I had never been to the state of Texas, and I didn't know anything about the franchise. "There was a picture of me right after I was drafted, and I have my head in my hands. And being honest, I remember what I was thinking: "I'm going to be starting all over again, and I'm going to be playing against grown men, with kids half my age. It wasn't like, 'Yes, NFL here I come!' I was like, "Holy crap, I am about to go play football with grown men, I'm terrified. I was like, I'm hoping I can do this. Can I do this? It took me a while to get the confidence I could do it."
Things turned out well for Hopkins, who ended up playing in 194 games over 13 seasons with the franchise. Hopkins was a two-time Pro Bowler and a key piece of the Titans' success while blocking for Steve McNair and Eddie George before retiring in 2005.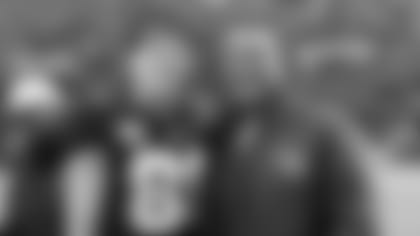 Now, Hopkins is set to experience the draft as a father.
Brycen Hopkins, who prepped at Ensworth in Nashville, played in 48 games in four seasons with the Boilermakers, and he caught 130 passes for 1,945 yards and 16 touchdowns. In 2019, Hopkins caught 61 passes for 830 yards and seven touchdowns.
Hopkins said his parents, his ex-wife, his brother and sister and other family members will join together to watch the draft.
"When you are dealing with your son, you want what is best for them," Hopkins said. "And every single parent wants a life led by their children that's better than the one they led, right? So, I want my son to not only get in the league, but I want him to be better.
"I am excited, because this is such a big moment for him."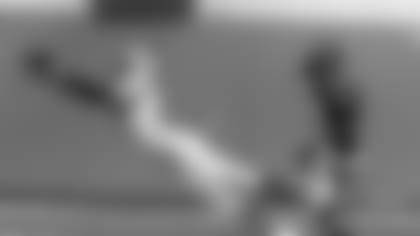 At Ohio State, Chris Sanders was roommates with fellow receiver with Joey Galloway.
Everyone knew Galloway was going to be a drafted early, and he was -- he was the eighth overall pick by the Seahawks.
Sanders, watching the 1995 draft at his mother's house, had no idea where he'd end up. The Giants and Redskins had shown a lot of interest in him during the pre-draft process, but in the third round (67th overall) he was picked by a surprise team.
"It started blinking on the bottom of the screen saying 'Alert, Alert – the Houston Oilers select Chris Sanders from the Ohio State University," Sanders recalled. "I was like, 'What?' I'd never talked to them," Sanders said. "Then all of a sudden Jeff Fisher was on the other end of the line, and I heard his mustache through the phone. He was saying, 'Chris Sanders, are you ready to be an Oiler?' I was like, 'Man, this guy sounds like Barry White.' In all seriousness, it was an incredible feeling. I cried, and my mom was hugging me. It's one of those days I'll never forget."
Sanders played from 1995-2002 with the Oilers, and he finished his career with 177 catches for 3,285 yards and 17 touchdowns.
Sanders said he's given plenty of advice to his speedy son CJ, who played in all 13 games at SMU in 2019 after spending three years at Notre Dame. The 5-foot-9, 183-pound Sanders ranked second nationally in kickoff return touchdowns with two and sixth in kickoff return average (28.8). He was third on the team with 1,122 all-purpose yards and was the FBS active career leader in combined kick returns (3,489), kickoff returns (127), kickoff return yards (3,166), combined kick return TDs (6).
CJ Sanders was clocked at a 4.34 during a recent workout at Montgomery Bell Academy in Nashville, his father said.
"I have been trying to calm his nerves because he doesn't know where he's going," Chris Sanders said. "I am trusting in my faith, believing he's going to get drafted because he is an explosive and great player."
Sanders said the family will watch the draft together in the basement of their home in Nashville.
"I'm more nervous than he is – I've been biting every nail that I have," Sanders said. "When he gets drafted, I am just going to hug his neck and cry. It will be his chapter to show the world he has great ability."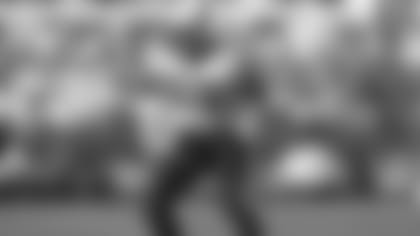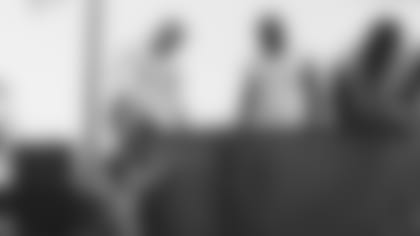 Jon Runyan and Jon Runyan Jr.
Jon Runyan watched the 1996 NFL draft with family and friends in Ann Arbor, Michigan, in the house he rented during his senior year.
Heading into the draft, he didn't know what to expect.
"They were saying maybe late-second, probably third round," Runyan said. "Back in those days the draft was only two days – it was rounds 1-3 on Saturday, and 4 through 8 on Sunday and I didn't get picked on Saturday. We had wall to wall people at the house, some of my college buddies were stopping by, and we got to the end of that third round and it was like, 'Uh, oh." So, it was kind of a bummer. There were some frustrated people around the house -- I remember my dad being frustrated."
The next day, Runyan remembers sitting on the couch and seeing his name go across the ticker – he'd been selected in the fourth round by the Houston Oilers.
"About 15 minutes later, Steve Watterson calls me," Runyan said of the former Oilers and Titans strength coach. "I was excited, but you have to remember: Everybody knew that franchise was leaving Houston. So, it was like, "Are we going to Tennessee? … It was a very, very unique situation I was going into."
Runyan ended up having a heck of a career.
He played from 1996-99 with the Oilers/Titans, and then played from 2000-2008 with the Eagles before finishing his career with the Chargers. He played in 207 games, with 192 starts, and was named to All-Pro and Pro Bowl teams.
This weekend, Jon Runyan will celebrate his son.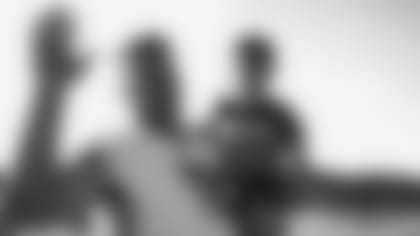 Jon Runyan Jr. was a two-time All-Big Ten honoree at Michigan, and a two-time recipient of the Hugh H. Rader Memorial Award given to the team's top offensive lineman, joining his father as the school's only father-son duo to win the award. He appeared in 34 games with the Wolverines, with 26 career starts (25 at left tackle, one at right tackle).
The family plans to get together at Runyan's house in Philadelphia.
"What I am going to do to Jr. is actually prod him a little bit," Runyan said. "Like, you see this is your career, how you have no control over it – that's what it is like when I am watching you play football and I can see the blitz coming and I am waiting for you to make a call so I know you are not going to do anything crazy out there. … It is a little bit nerve-racking because you don't have control over it."
Jon Runyan smiles when he thinks about his son's opportunity.
Brad Hopkins and Chris Sanders know the feeling.
"It is his time, and I am excited and happy for him," he said. "I had my opportunity, and now it's his turn and I want him to make most of it."