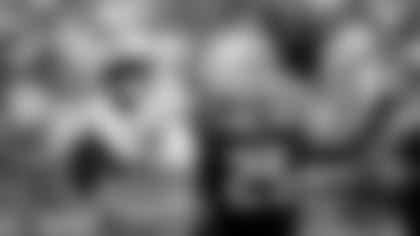 Nate Washington registered the first 1,000-yard receiving season of his careeer, while catching the game-winning touchdown at Houston.
HOUSTON -- Nate Washington fought through the pain, tracked the fluttering ball and somehow maintained control of it as he hit the end zone with a thud.
The incredibly difficult catch — a 23-yard touchdown pass from Matt Hasselbeck — broke a tie in the fourth quarter, and Tennessee withstood a dramatic rally from the Texans for a 23-22 win in Houston.
A different tiebreaker, however, ended Tennessee's season Sunday. Despite the win, Tennessee's playoff fate rested in the hands of four other AFC games. Cincinnati had to lose to Baltimore, and another AFC team needed to finish in a three-way tie with a 9-7 record for the Titans to have a shot at making a return trip to Houston this Saturday.
Both of those occurred, but the New York Jets lost at Miami and finished 8-8, creating a scenario in which the Titans needed Oakland to beat San Diego and Denver to beat Kansas City. The Raiders and Broncos lost home games and both finished 8-8 with Denver winning the AFC West through a tiebreaker.
Cincinnati held the head-to-head tiebreaker with Tennessee because of the Bengals' come-from-behind 24-17 defeat of the Titans on Nov. 6. It was the only victory the Bengals had against a team that finished the season with a winning record.
The Titans are the only team in the NFL with a winning record that will not be in the playoffs, leading coaches and players to think about how close they were.
"Definitely not the season that we wanted, you know," Washington said. "We had a couple of games that slipped away from us, but to have a winning season after coming off a couple seasons that didn't go so well for us, it's really paid off. We've been working very hard with the new coaching staff, and I think this is a true testament that we can only get better."
Washington finished his seventh pro season with career highs of 74 catches for 1,023 yards and seven touchdown catches. He became the first Titans receiver with more than 1,000 receiving yards since Derrick Mason in 2004.
"This wasn't only for me," Washington said. "The coaching staff, the players in this locker room, to really believe in me the way they have, this is kind of a pat on the back for everybody. I've been working very hard this season, have been through a lot in my career, so it's has been a long time coming. I'm proud to finally be here at 1,000 (yards), and I'm looking forward to getting even better."
Washington has played through pain since hurting his ankle at Buffalo on Dec. 4. He's been slow to get up after some receptions but has kept coming back for more each week.
"He has been a warrior for us all year and he did the same thing again today," Titans coach Mike Munchak said.
Although Washington and Hasselbeck missed reps and some game snaps in December, the duo continued to produce. Washington had four catches for 92 yards Sunday, including a 55-yarder that set up the third field goal by Rob Bironas.
"He's a guy, like many guys, that has been playing through some injures," Hasselbeck said. "He's trying to tough it out. He came up big on the two big plays, for sure the touchdown that put us up and then the deep ball down the sideline. He wasn't wide open—it was just a great catch, and he might have gotten banged up on that play also. It was a good year for him. I think he finished over a thousand yards, I believe for the first time, so I'm happy for him."
Hasselbeck said players and coaches will reflect on some missed opportunities in games this season, but they can build on the way they responded after a disappointing loss three weeks ago at Indianapolis.
"All in all, at the point when we were 7-7 and in the tank about playing poorly against (the Colts), it was important for us to regroup," Hasselbeck said. "I think Coach Munchak did a nice job of splashing some water on our face and basically saying to stop feeling sorry for ourselves. We can be proud about finishing 9-7 and controlling what we can control."
The Texans, who won their first AFC South title this season, locked up the No. 3 seed in the playoffs regardless of Sunday's game but played down to the wire.
Tennessee took a 23-16 lead on the scoring pass from Hasselbeck to Washington with 4:31 remaining. The Titans forced the Texans to punt and were trying to run out the clock when Ahmard Hall took a severe hit from Tim Dobbins and Brandon Harris.
Hall was shaken up on the play and fumbled the football, which Jesse Nading recovered for Houston at the Tennessee 36-yard-line with 1:49 left in the game.
Reserve quarterback Jake Delhomme hit Bryant Johnson for a 5-yard touchdown with 14 seconds to go, and the Texans lined up for a two-point conversion to win the game and end the Titans' season with a loss. Tight end Joel Dreessen committed a false start, and the ensuing shotgun snap sailed over Delhomme's head.
Tennessee defensive lineman William Hayes tracked down the football and secured it. The Titans corralled the Texans' onside kick attempt and took a knee to earn the 400th win in Titans/Oilers franchise history in their former city.
HASSELBECK HITS MILESTONES: Hasselbeck finished 22-for-35 passing for 297 yards and two touchdowns. He was sacked three times, but remained poised despite an early rib injury to starting receiver Damian Williams.
Hasselbeck finished his first season with the Titans with 319 completions for 3,571 passing yards, the first time a Titans quarterback has had more than 300 completions in a season since Steve McNair in 2002. He also joined Warren Moon (1989-91) as the only quarterbacks in franchise history with more than 3,500 passing yards in a season.
AVERY SCORES ON FIRST CATCH: Receiver Donnie Avery's first catch as a Titan occurred in the end zone. Avery, who was born in Houston and played collegiately at the University of Houston, scored on a quick throw from Hasselbeck against single coverage to give the Titans a 10-7 lead in the second quarter.
"All I was telling myself all month was stay patient and stay with a positive attitude and that's what I did and it got me here and I'm trying to contribute," Avery said. "It felt great. I've been patiently waiting, finally got out there and contributed."
It was Avery's first touchdown since November 2009 when he was in his second year in St. Louis. Avery missed the entire 2010 season with a torn ACL and started this year with the Rams, who cut him before the season started. He signed with the Titans in September after Kenny Britt tore his ACL and MCL.
Avery caught three passes for 45 yards, including a 21-yarder on the game-winning drive.
CJ JOINS CAMPBELL, GEORGE: Titans running back Chris Johnson rushed 15 times for 61 yards, finishing the regular season with 1,047 yards on the ground.
Johnson joined Earl Campbell (1978-81) and Eddie George (1996-2000) as the only men in Titans/Oilers history to rush for more than 1,000 yards in at least four straight seasons.
Johnson also caught four passes for 49 yards, the last of which secured an important first down on a third-down play by the nose of the football. The conversion happened three plays before Washington's winning grab.
TITANS RECORD THREE SACKS, FORCE FUMBLE:  The Titans' defense sacked Houston quarterback T.J. Yates on the Texans' first snap of the game. Rookie Jurrell Casey and second-year pro Derrick Morgan converged on Yates for a 5-yard loss.
Yates left the game with a bruised shoulder and was replaced by Delhomme.
Dave Ball recovered a sack fumble of Delhomme that Titans safety Chris Hope recoved to set up Tennessee's first touchdown, and Casey sacked Delhomme in the fourth quarter. Casey recorded two quarterback hurries as well in his 15th start of the season.
"He's been good all year," Munchak said. "He's been a rookie who's really committed. Jurrell does a great job in there. You can't move him. That natural leverage he has with a lack of height helps him and he's hard to move. He's been big for us and he made some big plays today."
BIRONAS EXTENDS STREAK: Bironas kicked field goals of 21, 43 and 33 yards. He kicked a field goal of more than 40 yards for the 10th straight game, extending his NFL-record streak.