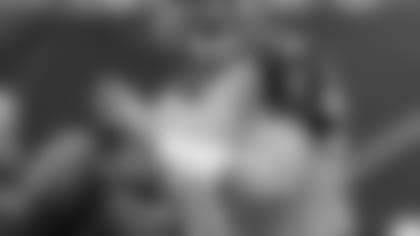 Matt Hasselbeck completed 10 of 20 passes for 220 yards and three TDs at Cleveland.
CLEVELAND -- Mike Munchak remembered from his playing days how weather in Cleveland seems to deteriorate in the second half.
The new Titans coach wanted his offense to strike while the best opportunities were available.
Matt Hasselbeck received the message and helped deliver efficient results. Hasselbeck threw two touchdowns on consecutive completions, and the Titans scored their most points of the season in a 31-13 defeat of the Cleveland Browns Sunday.
"We thought it was going to be a challenge," Hasselbeck said. "With the weather, we didn't know how much we were going to throw the ball. Rain was coming in off the lake, and the weather was going to be tough. So we just talked about throwing while we could, and guys stepped up and made big plays against their main coverage."
Tennessee snapped a seven-game road losing streak that dated back to last October, scored 24 unanswered points with big plays on offense and defense, and got running back Chris Johnson further involved in the offense with a season-high 101 yards on 23 carries.
Hasselbeck completed 10 of 20 passes for 220 yards and threw three touchdowns against one interception for a quarterback rating of 108.3. He did most of his damage in the first half before weather conditions worsened. He went 8-for-12 passing for 194 yards and the three scores for a rating of 149.3 in the first two quarters. It was the first time that the 13-year NFL veteran, who signed with Tennessee in the offseason, had thrown three touchdowns in the regular season since October 2009.
The Titans (3-1) spread the ball to tight ends, receivers and running backs in their first game without Kenny Britt, who tore his ACL Sept. 26 against the Broncos. Britt had emerged as a leading target in his first three games with Hasselbeck, who has distributed the ball to multiple players over the years.
"Some people have their favorites, but he does a great job of taking what the defense gives him," Munchak said Hasselbeck. "He did a good job of reading the coverage and throwing to people that can make plays. He has been doing that for all four weeks that he has played for us so hopefully he can continue to get better by working with the young receivers."
Hasselbeck put the Titans up 7-3 with a 12-yard pass to tight end Craig Stevens with 3:25 left in the first quarter, and Tennessee never trailed again.  It was the first touchdown of the season for Stevens and third of his four-year career.
After the second field goal by Cleveland's Phil Dawson, Hasselbeck's next throw was an 80-yard catch and run by tight end Jared Cook with 13:59 remaining in the second quarter. Hasselbeck hit Cook on a crossing route, and the third-year pro turned up field, broke a tackle near the sideline and streaked the rest of the way.
It was the longest reception and second touchdown of Cook's career. His previous long for a reception was 36 yards last season against San Diego, and his first touchdown occurred at Kansas City last year.
Tennessee padded its lead on Cleveland (2-2) with less than a minute to go in the first half by going 78 yards in just 1:01. Hasselbeck hit Nate Washington for a catch and run of 57 yards to the Cleveland four-yard-line, and floated a pass to Damian Williams on the next play.
Those completions were the longest reception of the season by Washington and the first career touchdown for Williams, who made his first career start in place of Britt and helped free up Washington on the previous play by executing a "rub route" against Browns defenders.
The Browns entered the game ranking second in the NFL with 11 sacks, but Cleveland did not drop Hasselbeck for a loss. Browns linebacker Scott Fujita said Hasselbeck did a good job of knowing where to go with the football and doing it quickly.
"He does a good job of identifying coverage and getting the ball out of there," Fujita said. "We couldn't get a whole lot of heat on him (Sunday) because he gets rid of the ball so quickly. He is playing well this season; he does a great job of seeing things right away and getting rid of the ball."
DEFENSE STOPS ANOTHER FOURTH-AND-1: For the second time in as many weeks the Titans' defense stopped an opponent on fourth-and-1.
Last week against Denver, Tennessee defenders stopped the Broncos from scoring from 1 yard out to keep Denver from building on its lead in the fourth quarter and kept the Titans positioned for the comeback win.
On Sunday, the Titans' defense protected a 14-6 lead midway through the second quarter with another key stop. Cleveland began the possession at midfield, but Tennessee halted the drive without giving up a first down. Sen'Derrick Marks stuffed Peyton Hillis for no gain on third-and-1, and Michael Griffin stopped Armond Smith shy of the mark one play later with an open-field tackle.
'BIG-PLAY BABS' DELIVERS: Titans safety Jordan Babineaux picked off Colt McCoy and returned the interception 97 yards for a touchdown that gave the Titans a 31-6 lead with 2:28 left in the third quarter. 
Babineaux, an eight-year NFL veteran who signed with Tennessee in the offseason, earned the nickname "Big-Play Babs" for his penchant for making important plays prior to his arrival in Tennessee. He started in place of Chris Hope (shoulder) against Baltimore and Denver and came into the game after Hope injured his forearm Sunday.
Babineaux recovered a fumble against the Ravens, led Tennessee's defense with nine tackles against the Broncos, and put away the Browns with his second career interception return for a touchdown.
"Babineaux was awesome again," said Hasselbeck of his former Seattle teammate. "He just has a knack for coming up with big plays in critical situations. That was a huge play for us."
RUN GAME GETS GOING: Johnson recorded his first 100-yard rushing game of the season and 25th of his four-year career.
Johnson delivered a 25-yard run — his longest of the season — to set up Tennessee's first touchdown, and continued to burst through holes for medium-sized gains. He finished with 101 yards, more than doubling his 98-yard total from the first three games of the season.
"It meant a lot to finally get some open space and get used to being out there," Johnson said. "Also, getting the running game going on the road instead of the way we started off the first couple weeks with negative plays. Even on the first drives we started off badly, but on the second drive when we had good field position, (offensive coordinator Chris) Palmer wanted us to focus on not getting those negative plays."
Johnson, who missed training camp and the preseason games because of his contract holdout, entered the game averaging 2.1 yards per carry but delivered 4.4 per carry Sunday and caught two passes for 11 yards.
SACK PACK: Tennessee sacked McCoy four times and dropped receiver Josh Cribbs behind the line of scrimmage during a trick play Sunday.
Derrick Morgan recorded his second sack of the season, Jason Jones recorded his first of the year, rookie defensive tackle Karl Klug his second sack and of the season, and rookie linebacker Akeem Ayers notched the first of his career by dropping McCoy.
"We had a lot of big plays and scored a touchdown," Jones said of the defense. "Right now, everything is clicking. If we continue to prepare like we've been doing every week, we'll have many more wins."
Rookie Karl Klug was credited with his second sack of the season and his career when he wasn't fooled on the trick play and brought down Cribbs for a 7-yard loss.
MARIANI HAS OPPORTUNITY: Marc Mariani, who made the Pro Bowl as a return specialist in his rookie season of 2010, was able to return kickoffs for the first time this season.
An off-season rule change that spots the ball at the 35-yard-line for kickoffs had enabled kickers to register touchbacks in the first three games against the Titans this season, but cold, windy weather in Cleveland enabled Mariani to field two kickoffs, returning each for 24 yards apiece.
LOCKER DEBUTS: The Titans inserted rookie quarterback Jake Locker into the game with 3:50 left in the fourth quarter.
The first-round draft pick handed the ball off to Chris Johnson five straight times, with the Titans converting one first down, then attempted one pass that fell incomplete on third-and-6 with less than two minutes remaining.
"We felt it was nice to get him in the game and to get some snaps," Munchak said. "It was a good time and a good chance to do that during the season."
HOT START: This is the sixth time since 1999 that Tennessee has started a season 3-1 or better. The Titans have made the playoffs each of the five previous times they have started with at least three wins in their first four games.