NEW YORK - As fans nationwide celebrate the 80th NFL Draft, April 30-May 2, the NFL will bring unprecedented free fan experiences, flag football competitions, musical entertainment, autograph sessions and more to the host city of Chicago, the NFL announced today.
The Draft will take place at Chicago's historic Auditorium Theatre of Roosevelt University, and for the first time, will expand outside to adjacent parks. Congress Plaza will host Selection Square, home of the 32 team Draft tables, Grant Park will be transformed into Draft Town presented by Oikos Triple Zero, a free, three-day outdoor interactive fan football festival spanning the size of 15 football fields.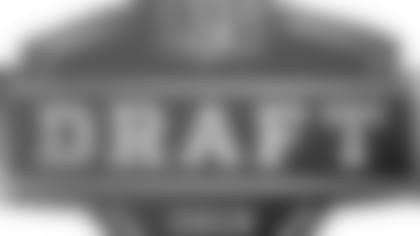 Round 1 festivities, slated for 6:00 p.m. ET on Thursday, April 30, will include incoming prospects walking the red carpet on Michigan Avenue before heading into the theatre for the start of the Draft (8:00 p.m. ET). Thirty-two former players from the NFL Legends community, one representing each team, will be on hand for Round 2 presented by Bud Light and Round 3 to announce selections on Friday, May 1 beginning at 7:00 p.m. ET.
On Saturday, May 2 beginning at 12:00 p.m. ET, Rounds 4-7 will mark another Draft innovation. The event will take place outside at Selection Square and in locations across the country. Teams will announce their Draft selections at their facilities and other locations in their city. Fans in Chicago will have the opportunity to take photos onstage at the Auditorium Theatre.
No tickets are required for Draft Town presented by Oikos Triple Zero. A limited number of tickets are available for both the Auditorium Theatre and Selection Square. Detailed information regarding how fans can obtain tickets will be released Monday.
The 2015 NFL Draft will be televised nationally by NFL Network and ESPN.
The following outlines opportunities for fans to take part in the NFL Draft celebrations throughout Chicago. Fans should visit nfl.com/DraftTown, follow @NFL on Twitter and use #NFLDraft for the most up-to-date information. Fans in Chicago are encouraged to share their experience using #DraftTown.
---
Selection Square
Selection Square will serve as the epicenter of the Draft. Located across Michigan Avenue from the Auditorium Theatre, Selection Square will feature all 32 team tables where representatives from each NFL team will make their Draft selections throughout the three days.
Selection Square is free and will include a reserved seating section, and NFL Network produced live programming all three days of the Draft. Upon selection, Draft picks in attendance will be featured outside in Selection Square for interviews in front of the crowd.
---
Draft Town Presented by Oikos Triple Zero
Draft Town presented by Oikos Triple Zero is the free, expansive interactive Draft celebration in Grant Park open all three days of the Draft. Full of music, food and more, the 900,000-square foot celebration is the size of more than 15 football fields. No tickets are required.
Draft Town will feature interactive elements, flag football competitions, concessions, player appearances/autograph signings, an NFL Draft Shop, the NFL PLAY 60 Field presented by Danimals, where youth football clinics will take place, visits from Draft prospects and more.
The three-day event will culminate on Saturday night with a concert to close out Draft Town festivities. An assortment of Draft Town fan experiences are detailed below.
• Sweetness Simulator – This wind tunnel skydive simulator floats fans into the air where they can strike an iconic football pose in the heart of the windy city.
• Run Like the Wind – Fans will have the opportunity to test their speed by running alongside a 40-yard long LED screen featuring NFL stars running the 40-yard dash.
• AFC & NFC Row/Team Houses – All 32 NFL clubs have a home at Draft Town at their Team House. Divided into AFC Row and NFC Row, these ultimate fan caves provide a place for fans to gather and engage with unique club content and memorabilia.
• NFL PLAY 60 Zone Presented by Danimals – An interactive area for kids and families to play together. It includes an obstacle course, mobile app gaming, green screen photo opportunity, the NFL PLAY 60 Bus and more.
• NFL PLAY 60 Field Presented by Danimals – The NFL and USA Football will host youth football clinics on the NFL Play 60 Field. Local coaches and NFL Legends will come together to teach youth about the importance of getting active and playing for 60 minutes a day.
• Super Bowl Museum (Pro Football Hall of Fame display area) – This exhibit features historical Bears memorabilia, the Vince Lombardi Trophy, Super Bowl rings and the AFC and NFC Conference Championship trophies.
• Draft Tavern Presented by Bud Light – The hottest place to drink the coldest beer and support your team during the NFL Draft.
Grant Park's famous Buckingham Fountain will be lit up in the colors of the team that is on the clock during the Draft's first two nights.
Draft Town hours of operation are: Thursday, April 30: 4-10 p.m.; Friday, May 1: 4-10 p.m.; and Saturday, May 2: 10 a.m. – 7 p.m.
---
For more information on Draft Town attractions, events and prohibited items, visit NFL.com/DraftTown.
Additional Information
The NFL Draft was held in Chicago in 1938, 1942-44, 1951, and 1962-64. The 125-year-old Auditorium Theatre opened in 1889 and has hosted operas, concerts, musicals and ballets. Presidents Theodore Roosevelt and William McKinley gave speeches at the theatre, which has also hosted shows by performers such as Ray Charles, The Doors, Aretha Franklin, Jimi Hendrix, Elton John, Frank Sinatra and Stevie Wonder. The theatre also hosted Les Miserables and Phantom of the Opera.
NFL On Location, the NFL's official source for event experiences and hospitality, will be offering a host of Draft packages. Fans may visit nflonlocation.com for more information or to book their packages.
RECOMMENDED: