**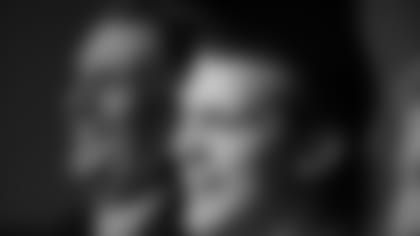 Top draft pick Jake Locker smiles during a press conference introducing him to Nashville reporters Friday at Baptist Sports Park.
NASHVILLE, Tenn. -** Jake Locker should fit in very well in Music City. He loves country music, drives a Chevy truck and his favorite book is a playbook.
The Titans expect the former Washington Huskies quarterback to light up a locker room desperately in need of leadership from the position. Locker didn't disappoint Friday, leaving Seattle at 1 a.m., arriving in Nashville after sunrise and yet was still all 100-watt smiles as he met with reporters.
Asked what fans can expect from him, Locker hit all the right buzz words.
"Every time I step on the field I'm going to give you as much as I can and I'm going to be accountable to you,'' he said while flanked by coach Mike Munchak and general manager Mike Reinfeldt. "I think that kind of embodies a lot of different things. I'm going to play hurt as long as I can as long as I'm still going to be effective and those sorts of things, and I want to be here for this football team and be a part of it.''
That attitude is refreshing in Nashville where the relationship with the franchise's previous big hope, Vince Young, soured over the last two seasons. Young, thought to be the Titans' savior after being taken with the No. 3 overall pick in 2006, will likely be let go shortly after NFL business restarts. Young's last toss for the Titans likely came when he threw his shoulder pads in the stands as he walked off the field following a season-ending injury, then argued with former coach Jeff Fisher.
The choice of Locker at No. 8 overall was a surprise to some, who fixated on his accuracy. But coach Mike Munchak said he was the obvious choice because of what he's been through.
Locker's time at Washington was fraught with trials. The Huskies went 0-12 his sophomore season, during which he broke his thumb and missed much of the year. He had two head coaches and three offensive systems. Yet he led Washington to a 19-7 win over Nebraska in the Holiday Bowl to cap his career after turning down the chance to be taken among the top few draft picks following his junior season.
"For us, to watch him handle stuff like that is impressive,'' Munchak said.
Locker was not often mentioned as a Top 10 selection and was considered a second-tier quarterback by some behind Auburn's Cam Newton (No. 1 overall to the Carolina Panthers) and Missouri's Blaine Gabbert (No. 10 to Jacksonville). He was knocked for his passing accuracy, which was 53.9 percent overall with a high of 58.2 percent his junior season.
Locker dismissed those concerns, however, saying he doesn't believe he has an accuracy problem.
"Statistics, they look at numbers and that's it,'' Locker said of his critics. "And I think that's what I try to let all the coaches know - sometimes the numbers aren't the most telling. I believe I am an accurate passer like I told you in the beginning and I'll continue to tell you, and I hope to be able to prove that to you guys.''
He convinced the Titans, who got to know him very well in the months leading up to the draft. They scouted him at the Senior Bowl, the NFL Combine and his pro day at Washington followed by a private workout and bringing the quarterback to Nashville for another meeting.
"We did visits with 30 players,'' Reinfeldt said. "When Jake came and visited everybody you could kind of close your eyes and you could imagine Jake Locker as a Titan. You felt comfortable with that from our perspective.''
Locker's arrival in Nashville was the payoff after a career thus far marked by against-the-grain decisions. He chose not to play baseball after being drafted twice by the Angels and stuck around for a senior year despite predictions he might be the top pick in the 2010 draft.
He left money on the table, but received a much greater reward.
"I'm proud of it,'' Locker said. "Life's not about money. Money doesn't make you happy. It's nice to be able to have financial stability, but it's not the most important thing in life to me. It never has been and never will. The experiences I got to go through last year, my whole college career, because I turned down that, I'm thankful for and I'm a better person because of it. There are things I will hold on to for the rest of my life and I wouldn't trade for any amount of money at this point.''