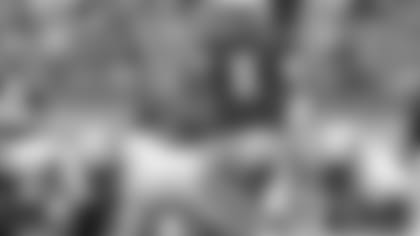 Newly-acquired QB Matt Hasselbeck looks over the defense prior to taking a snap during Saturday's mock practice at LP Field.
NASHVILLE, Tenn. - Mike Munchak is a Hall of Fame offensive lineman and a veteran assistant coach with years of experience. Yet, even he wants a little dry run before his first exhibition game as a new head coach.
Munchak capped the first week of training camp Saturday by taking his Titans to LP Field for a practice billed as a mock game. It offered a nice run through for the exhibition opener Aug. 13 against Minnesota and a thank you to the 4,100 fans who turned out on a wet day.
"It's for the fans to give them an opportunity to come out to the stadium, to get the players back over here realizing this is a home field we have to start taking advantage of again, all the newness with the coaching staff, the players," Munchak said of his reason for coming to the stadium.
His assistants worked from the press box, and coaches used the same headsets for communication as during games. The public address announcer called out the plays, and even T-Rac the mascot was on hand.
Munchak scheduled the day to mimic a game day with a pregame meal four hours from kickoff before taking the team to the stadium for taping and stretching.
But the threat of rain forced Munchak to start off the session 30 minutes early to squeeze all the work in before another round of storms hit. That meant many fans came in with the Titans already working, but the timing wound up nearly perfect.
The Titans wrapped up the practice and had 30 minutes for players to sign autographs for fans before the rain started again. The rain was so heavy early that new quarterback Matt Hasselbeck thought the session might be cancelled.
"No one was affected by it here," Hasselbeck said. "This is real rain. I've been in Seattle where it rains a little. This is like that sideway rain at times."
Hasselbeck said offensive co-ordinator Chris Palmer wanted to make sure the quarterbacks, receivers, tight ends and running backs all worked through their pregame routine to be ready.
"I think for everybody it was just a good first step, the mechanics of it. We talked about doing halftime and just doing all those kinds of things knowing where to line upa and stretch," Hasselbeck said.
The Titans started off the session with a real kickoff. But the 90 minutes on the field focused on four-minute, two-minute, red zone, first-and-10, backed up at the goal line, two-minute at the end of games and two-point plays.
Hasselbeck was intercepted twice, first by Alterraun Verner who stepped in front of Yamon Figurs, and then by Frank Walker who had a ball tipped to him in the end zone by safety Michael Griffin. Hasselbeck later found Nate Washington for a touchdown.
Rookie Jake Locker, the No. 8 pick overall, also had his ups and downs.
Backed up at his own goal line, Locker threw a pass too low for Herb Donaldson to catch and came back with a 20-yard dart to tight end Cameron Graham for a would-be first down. Locker also had a pass picked off by Pete Ittersagen at the goal line, while finding Michael Preston twice for TDs near the end.
Locker said it was nice to get into the stadium, especially for rookies to know what to expect in a week.
"I feel like guys will be able to play with more confidence because they know the routine. They know what to expect when they get here, and they won't be wondering," Locker said.
The Titans offered free parking Saturday and US$1 hot dogs at the concession stands as an outreach to fans.
Brandon Roser made the three-hour drive with his family from Dyersburg to take advantage of the practice and so his six-year-old son, Cooper, could see his new favourite player in Locker. Roser said he's glad the NFL is back at work after the lockout and likes the changes the Titans have made.
"I like they're starting over with a new quarterback," Roser said.
NOTES: LT Michael Roos (back) could have practised, but Munchak said Roos will be back Monday. ... WR Kenny Britt (right hamstring) also watched but is also expected to return Monday. ... CB Jason McCourty did not practice. Munchak said McCourty got his head banged a bit Friday. ... Rookie P Chad Cunningham (right leg) also did not practice.