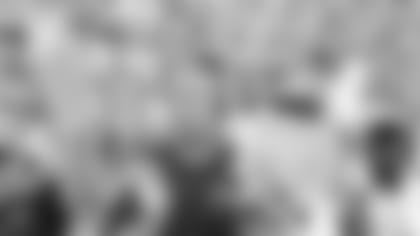 Mike Munchak has molded his team into a group of hard workers wanting to win now.
NASHVILLE, Tenn. — Mike Munchak made sure his Tennessee Titans knew exactly what their new coach wanted the instant the NFL lockout ended by putting his expectation on the wall next to the team auditorium.
"Be a pro ... Know what to do and do it."
The early results indicate the last coach hired in the NFL has put his imprint on the Titans despite not having an offseason. Tennessee is 3-2 at its bye and tied atop the AFC South, and the Hall of Fame offensive lineman and first-time coach has molded his team into a group of hard workers wanting to win now.
"I want our identity to just be tied into that, we know what to do and we go do it on Sundays," Munchak said. "You watch the tape and its consistency, we work hard, we are playing together, we believe in each other and that should show in how we act and those kinds of things. When you do that and you have success, I think guys really start buying into that."
It's hardly what anyone outside of Titans' headquarters expected when Munchak was promoted Feb. 7 to replace Jeff Fisher, the longest tenured NFL coach with his team. It's not a job Munchak sought despite being with the franchise the past 30 years as a player and assistant coach. But the Penn State graduate and Pennsylvania native has taken over.
Munchak is the one who added speakers blasting music during training camp and now during the season. He also gives them some freedom to go out and eat on their own before road games, which Munchak says he enjoyed as a player.
But discipline also is demanded on and off the field. Fighting isn't tolerated in practice because it can lead to fighting in games. Hats no longer can be worn in the building. Players are expected to dress up for road trips, and fines are handed out regularly.
"That's where Munch has brought his style to the game," linebacker Will Witherspoon said. "He's taken us back a bit old school."
Munchak also helped secure the biggest free agent the Titans signed after the lockout.
Matt Hasselbeck also had an offer from San Francisco, and Munchak convinced the veteran quarterback he would be well protected by Tennessee's offensive line. Hasselbeck signed a three-year deal to help mentor Jake Locker, the No. 8 pick overall in April, and he's kept the rookie on the bench with the best start of his career.
Hasselbeck has thrown for 1,414 yards with nine touchdowns and four interceptions, and he is the AFC's third-rated quarterback at 95.9. He's been sacked seven times and has provided much-needed leadership for a franchise that started three different quarterbacks last season in turning a 5-3 record at the bye into a 6-10 finish.
"He brings instant credibility, and when he came in here, he took over from day one with the way he set the tempo and the things he did," Munchak said. "When you have success right away like he did, that helps. That makes it a lot easier for him to kind of spread his message. I think it has caught on well, and the guys have really responded well to him."
Hasselbeck has compensated for Chris Johnson's slowest start to his career. Johnson has 250 yards rushing after his contract holdout kept him out all preseason before landing his $53 million extension.
The quarterback also is trying to make up for the loss of Kenny Britt to a torn right ACL and MCL in September after the receiver was off to the best start of his career. His starting receivers are veteran Nate Washington and second-year pro Damian Williams.
"There's opportunity for them to be a big part of our season, what kind of season we can have," Hasselbeck said. "I just think it's a great opportunity for a lot of guys. I honestly do not care who I throw the ball to. Just the guy that's going to consistently get open, work hard and do that kind of thing is going to get the ball."
New defensive coordinator Jerry Gray had a challenge mixing in four new starters, including two rookies in linebacker Akeem Ayers and tackle Jurrell Casey. The Titans rank fifth in the NFL in scoring defense, giving up 18.8 points per game after last week's 38-17 loss in Pittsburgh, and 10th in total yards allowed per game.
Defensive end Jason Jones said the Titans still must cut down some mental errors and be more consistent. But he sees the Titans in a good spot, especially with three home games looming when they return from the bye. Munchak made winning at home another key focus, and the Titans are 2-0 so far this season.
"We couldn't ask for anything else right now," Jones said. "A lot of people probably didn't expect us to be in this spot. I think a lot of people had us last in the AFC South so right now we're in a good position. Next week we come back, it's going to be a big game versus the Texans. We've got three straight home games. ... The bye week came at a great time. Come back healed up and get ready for a Houston Texans' game that's going to be just as physical."