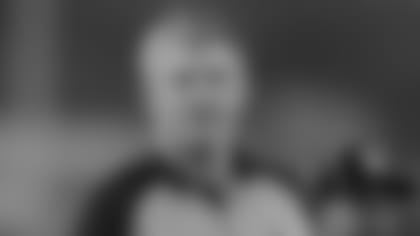 Mike Munchak makes his NFL head coaching debut tonight against Minnesota at LP Field.
NASHVILLE, Tenn. -- When Mike Munchak was named offensive line coach 14 years ago, becoming a head coach in the National Football League was the furthest thing from his mind. Munchak had just completed three seasons as an offensive quality control coach following a 12-year playing career that eventually landed him in the Pro Football Hall of Fame in 2001.
"At that point, I just enjoyed coaching the offensive line. I never really thought about becoming a head coach," Munchak recalled.
Munchak used the knowledge gained from his Hall of Fame career to coach the position for the next 14 years. He enjoyed his job so much that he never gave serious consideration to moving up to a coordinator position, the common path taken to become a head coach. Why do that, Munchak asked, when his family loved Nashville, his daughters were happy in their schools and he was enjoying a successful ride under Jeff Fisher's regime?
But something unexpected happened last January.
Fisher, the NFL's longest-tenured head coach, decided to take a break from the rigors of the position he held for 16 full seasons. Munchak's years of experience as a successful, well-respected player and coach in the organization made him a viable candidate.
He was offered the job in February.
"I didn't know this day would ever happen with Coach Fisher, but it did, and there I was with this great opportunity in front of me," Munchak said. "I felt if there was any job I was going to get, this was the one I was most qualified for and the best fit for me. People say when you work hard, good things will happen. This was one of those cases. I felt like I prepared along the way with my background and that I was ready for the challenge."
Tonight, Munchak makes his NFL head coaching debut as the Titans host the Minnesota Vikings in the preseason opener at LP Field.
Nervous? Not a man that once battled in the trenches against the likes of legendary Dallas Cowboys bad boy Randy White.
"We've only been with the players for two weeks, so it's going to be very interesting as a coaching staff to see where we're at," Munchak said. "A lot will be happening, but it's going to be exciting for all of us."
For Munchak, managing an entire game vs. coaching one position will be the biggest adjustment early on.
"I'll be involved in all three phases (offense, defense and special teams) with different types of decisions to make – playing time, penalties – just things I've never had to worry about before. The four preseason games are going to be great to have because I need the game experience. I've obviously been around a lot of football games but not in this position, so I'm looking forward to learning and coaching the game differently."
Is Munchak likely to have a moment when he steps back and realizes he is now a head coach in the National Football League? He said he's already had those moments, but admits being at this game will be different. Learning the ins and outs of his new role is one of his goals tonight.
"Even when I started as offensive line coach it took me a while to really get locked into where I was looking at the right stuff. As a head coach, I'm sure it's going to feel the same way when I have to use three different buttons to communicate with the various offensive coaches on my headset... I'm not used to working with three buttons," he said with a smile. "It's just all the basic stuff that's going to be different. I'm looking forward to it, but I'll really appreciate having the four games to get myself ready. The players have to get ready, but I also have to get myself ready to know how I want to handle myself and learn the tricks of the trade as I go along."
For Munchak, the learning curve should be minimal -- he's already accomplished so much in life. His focus now is getting his team ready for the regular season opener at Jacksonville.
"There are a lot of aspects that are real important to this team in order to be ready for Jacksonville," he said. "You want to win no matter what you do, but we just need to do all the little things to prepare – play the guys the right amount of time, put the right people together and find out who works best together. It's all about Jacksonville. That's our first one, and I'm sure they're saying the same thing about us."
Tonight, the journey begins. And Munchak couldn't be more excited to get things started in front of a home crowd at LP Field.
"The fan base has always been good to me and this team," he said. "It's a great place to coach and live, and I'm looking forward to kicking off my head coaching tenure against the Vikings. This game is going to mean a lot to a lot of people – not just to myself, but to the whole staff."