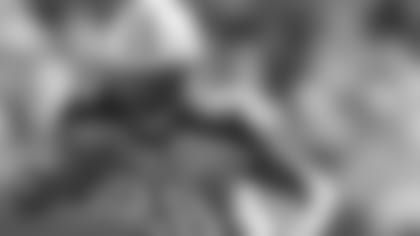 Chris Johnson will remain the team's starting running back, despite his recent struggles on the field, head coach Mike Munchak said.
NASHVILLE, Tenn. - Tennessee coach Mike Munchak is doing his best to defuse a potential running back controversy.
Munchak made it clear Monday that Chris Johnson remains the Titans' starter, and he said he sees the running back working harder than ever in a situation where his contract extension created high expectations.
Backup Javon Ringer will continue to play with the number of carries decided during each game.
"He's handling the situation where expectations are so high I don't know how he could ... unless we're running for 200 yards a game,'' Munchak said of Johnson.
"There's going to be people questioning what he's doing just because he's paid how he is and he's perceived to be one of the top backs in the league, so people expect an awful lot from him every time he steps on the field. When you come short of that and as a team we struggle, everyone's trying to figure out what's wrong. Something must be wrong.''
Well, Johnson helped drive expectations sky high for himself by leading the NFL in yards rushing between 2008 and 2010. He became only the sixth man in league history to run for 2,000 yards in a season in 2009, and he notched 24 100-yard rushing games through his first three seasons.
Since sitting out the preseason before signing a $53.5 million contract extension worth $30 million guaranteed, Johnson has topped 100 yards only once.
He has been held to 34 yards or fewer four times this season, or what he had through his first three seasons. Johnson said after a 27-10 win over the Colts that he feels fine and hasn't lost any of his speed, and he felt close to breaking loose on a couple plays.
The questions are going to continue until the Titans (4-3) fix the NFL's worst running game. The average per game is up from 64.3 to 68.9 after totaling 96 yards against Indianapolis, but easily trails Seattle's 77.7 yards per game.
The offense looks better with Ringer, an All-American at Michigan State in 2008, who looks stronger and faster than Johnson.
The pressure to get CJ running only increases with each passing week, especially after Ringer had more yards (60) than Johnson (34) on the same amount of carries against the Colts. Ringer also had a team-high five catches for 42 yards.
Munchak said there was no plan to even out the carries between the running backs.
"There's no rhyme or reason to it right now. If there was, I'd let you know,'' Munchak said. "We're just trying to get something fixed that hasn't been as productive as we'd like, and we're not doing anything different .... We don't feel any different about Chris Johnson. All of the above. Nothing's changing. Our philosophy hasn't changed.''
Munchak said they split the carries between Johnson and Ringer based on feel plus which running back fit different plays better. The coach has maintained for weeks the struggles running the ball were the fault of everyone on the offense with players taking turns making mistakes. Against Indianapolis, Johnson was tackled for a 5-yard loss when someone split through the line.
But Ringer was the running back on the field in the fourth quarter as the Titans tried to finish off a victory and end a two-game skid. He had 10 of his carries in the quarter, and he was on the field for the start of both of the Titans' two touchdown drives.
"I know that right now C.J. is our guy,'' Ringer said after the game. "C.J. was blessed to do tremendous things his first couple of years here. He has earned everything that he has right now. Right now he is the guy. I am the No. 2 guy. I know my role.''
Munchak said they have to get better with Cincinnati (5-2) visiting on Sunday. Asked if Johnson's contract made him untouchable, Munchak said they will play whoever gives them the best chance to play. Getting Johnson and the offense more opportunities to run the ball could be a big help toward clicking.
"Obviously, Chris Johnson brings a whole different element,'' Munchak said. "If you let him bounce outside or you let him get through there clean, he has the speed to outrun most people in the league. There's no doubt that's a threat to a defense. There's no doubt that's what Javon doesn't have ..., and that's something Chris does have as we all know.''
NOTES: Munchak said he expects TE Craig Stevens (ribs) to practice Wednesday after being deactivated against the Colts to help put his injury behind him. LB Colin McCarthy (hamstring) also may practice after missing two games. S Chris Hope (left forearm) is the only player not expected to be available against the Bengals.