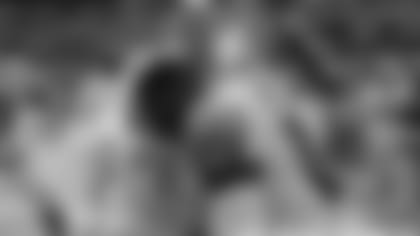 Titans coach Mike Munchak gets doused with Gatorade in the closing seconds of Tennessee's 26-13 victory over Baltimore Sunday at LP Field.
NASHVILLE, Tenn. -- The Tennessee Titans came out frustrated over how they opened the season and more than a bit desperate. They took it all out on the Baltimore Ravens, showing off a passing game with new quarterback Matt Hasselbeck that means Chris Johnson now has some help.
Hasselbeck threw for 358 yards and a touchdown, and the Titans gave new coach Mike Munchak a big win in their home opener by beating the Ravens 26-13 on Sunday.
Munchak called the victory a great recovery after a 16-14 loss at Jacksonville.
''We knew we couldn't be 0-2,'' Munchak said after getting a Gatorade bath in the final seconds and a game ball from owner Bud Adams in the locker room. ''You can't start a season 0-2. ... We've been talking about winning at home since the first day I took the job.''
With the Ravens focused on stopping Johnson, Hasselbeck attacked through the air. Kenny Britt caught nine passes for 135 yards and a TD, while Nate Washington had seven more receptions for 99 yards. Rob Bironas also kicked four field goals as Tennessee (1-1) held the ball for more than 35 minutes and outgained Baltimore 432-229 in total offense.
Johnson had 24 carries for 53 yards, and he couldn't be happier at how well his teammates performed.
''A lot of teams come in thinking they can just load the box and if they stop me, they can win. ... It just showed we have other playmakers,'' he said. ''We have other ways to beat you. Hopefully, they help out and let other teams around the NFL know you just can't stack the box and try to stop me and win.''
Baltimore coach John Harbaugh said the Ravens did put eight near the line of scrimmage at times to try to stop Johnson.
''Hasselbeck did a nice job of controlling the game as far as recognizing what we were in and getting them in the right play,'' he said. ''To me, that's what a veteran quarterback does. He gets the ball out and he's got some big targets. The credit goes to him. I think he was the guy that was the difference in the game.''
The Titans also showed off their revamped defense.
They sacked Joe Flacco three times and hit him repeatedly while forcing three turnovers, including two interceptions. The Ravens (1-1), who looked so dominant in routing Pittsburgh 35-7 in their opener, forced only one turnover.
''I think everybody didn't play well, and that's the bottom line,'' Harbaugh said. ''We win as a team, and we lose as a team. I'm not going to sit here and nitpick one guy.''
Baltimore had one last chance to get into the game in the fourth quarter, when Flacco drove the Ravens down to first-and-goal at the Titans 9. But Tennessee broke up two passes, the last by Cortland Finnegan, while the Ravens were called for delay of game. They had to settle for Billy Cundiff's second field goal with 6:58 left to pull within 23-13.
Tennessee then ran out all but 31 seconds before Bironas kicked his fourth field goal to finish off the win. Hasselbeck kept calling plays, getting some defensive linemen to lift the heavy cooler to douse Munchak.
The Titans signed Hasselbeck to a three-year deal worth $9 million this season. Hasselbeck said he thought the offense was still a work in progress after the lockout, but Britt is making the transition a bit easier.
''He's a very talented guy for a quarterback,'' Hasselbeck said. ''I'm not sure I've ever had a guy that talented. He's got special abilities.''
The Titans set the tone from the opening kickoff, deferring to let Baltimore take the ball on offense. Tennessee forced the Ravens to go three-and-out on their first two possessions, with Alterraun Verner picking off a Flacco pass to end the third. Playing field position helped the Titans push the Ravens to start two drives at their own 4 and held them to 25 yards in the first quarter.
After going into halftime tied at 10 apiece, the Titans took control in the third quarter, outscoring Baltimore 10-0 and outgaining the Ravens 147-43. Javon Ringer finished off the opening drive with a 10-yard TD run on fourth-and-1 with Johnson on the bench.
NOTES: Ravens NT Terrance Cody had a concussion, and returner David Reed was in a sling after the game with an injury to the AC joint in his shoulder. ... Hasselbeck is the 33rd NFL player to throw for at least 30,000 yards in his career. This was the 22nd 300-yard passing game of his career. ... Britt now has six 100-yard receiving games in his career. ... The Titans also beat the Ravens six years ago to the day on Sept. 18, 2005, winning 25-10 in their home opener. ... The Ravens missed out on their fifth 2-0 start in team history. ... Harbaugh now is 1-2 against the Titans.