By Alex Garmezy, Titans Online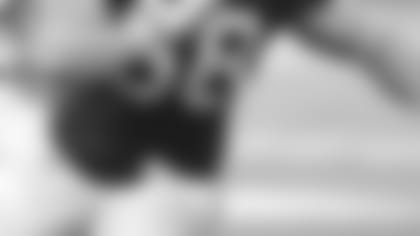 The Titans like the work ethic and high motor of defensive tackle Mike Martin.
NASHVILLE, Tenn. -- Getting more athletic and versatile on defense has been a goal of the Titans' coaching staff during the offseason. That's why Michigan defensive tackle Mike Martin was an easy choice for them in the third round of the 2012 NFL Draft.
Martin, a modern day Renaissance man known as a grinder on the football field, totaled 172 tackles, 10 sacks and 25 tackles for loss in 37 collegiate starts. General manager Ruston Webster said the 6-foot-1, 306-pound communications graduate is everything you want in a nose tackle.
"He is tough as nails, he is a grinder," Webster said. "He doesn't mind doing the dirty work and brings the kind of mentality that we want on our defense."
Defensive coordinator Jerry Gray and defensive line coach Tracy Rocker not only love Martin's versatility, but also his background as a two-time state wrestling champion. Martin is considered shorter than the prototypical NFL defensive tackle, but says his background as a wrestler helps him in the trenches.
"Wrestling has really helped me with my leverage and my quickness getting off the snap," Martin said. "Being able to have leverage, being able to be athletic and shoot on guys and work your hands. Especially in the pass rush and even the run, you have to shoot your hands, you have to get guys off of you and you have to make plays."
Head Coach Mike Munchak, who went up against some of the NFL's best defensive linemen throughout his Hall of Fame career, says Martin's combination of technique and relentlessness is exactly what an offensive lineman doesn't want to see.
"I guarantee you ask any guy that plays against him, those centers, that is the guy that they don't want to play against," Munchak said. "They can make guys look very bad if you are not playing hard every snap.  It is fun to watch a guy like him."
The Titans' first player to be born in the 90's is described as a high energy player who doesn't quit.
"I'm a guy who's not going to stop," Martin said. "I'm a guy that the whistle is going to have to be blown three or four times for me to stop on the play."