**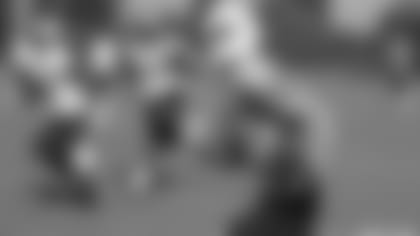 Cornerback Cortland Finnegan came up with the defensive play of the day, intercepting Vince Young and returning it down the sideline.
Quick Hits from Camp**
• Monday was the first day of 2010 Training Camp that the Titans were in pads.  While they weren't in full pads, they were donning shoulder pads and were engaging in contact which was warmly welcomed by the fans in attendance.
• The offensive play of the day went to Vince Young and Kenny Britt, when Young hit Britt in stride after he got behind the coverage for a 65-yard touchdown.  Defensively, Cortland Finnegan made the play of the day when he picked off Young on the goal line and took it down the sidelines for a would-be score.
• Former Titans great, Eddie George was in attendance today.  The franchise's all-time leading rusher spent most of practice watching but did spend time talking to a few players and coaches as well as a taking time out to talk to members of the media.
• Five Titans (Tony Brown, Willie Rose, Nick Schommer, David Thornton, and Damian Williams) remain on the Physically Unable to Perform list.  Tye Hill and Derrick Morgan did not practice.
• The Titans made a number change with rookie linebacker Rennie Curran, switching him from 38 to 53, Keith Bulluck's former number.
• The Titans signed cornerback Pete Ittersagen after injuries left them thin at cornerback with only four being able to suit up on Sunday. The team waived cornerback Jamar Love who had previously been on the PUP to make room for Ittersagen.
Off the field Q&A with Alterraun Verner
What's your favorite thing to do in Nashville?
"My favorite thing about Nashville is the downtown area.  I haven't been here real long but I did go and walk around down there with some of my teammates.  There are a lot of places to eat and hangout down there."
What did you do during the offseason?
"I went to Las Vegas with my family and a few amusement parks in California but the big thing was the Las Vegas strip."
What are some of your favorite hobbies?
"I like multiple things.  I like playing basketball, I like poetry and I like playing video games.  Those would probably be my top three."
What's your favorite foods?
"I'd have to say pasta, I love chicken fettuccini alfredo."
What are your plans after football?
"Ideally, I would love to teach math and coach at the high school level.  Other than that, I might do something with accounting or statistical analysis.  Being an accountant, just handling finances and stuff like that is definitely a possibility, too."
Which one of your coaches would you most want to see on Dancing with the Stars?
"I would like to see Coach Washburn (Defensive Line), I think that would be very interesting."
What was the last movie you saw in the theaters?
"The last movie I saw was Salt, I liked it a lot...that and Inception, I saw those two recently and I liked both of them."
If you were a superhero, what would you want your super power to be?
"That's a good question, I was a big Dragon Ball Z fan when I was a kid.  My favorite thing about the show was the teleporting so I would want to be able to do that.  I'd be able to go anywhere I want and do anything I wanted."
What was the best piece of advice you've been given?
"I think it was around the end of my senior year of high school or maybe the beginning of college, but somebody gave me a quote on MySpace or Facebook that said 'if better is possible, than good is not enough.'  Ever since I heard that, then I've been using it for a bunch of things because I feel like if you can get better than you shouldn't settle for just being good—I try to use that in all aspects of my life."
(on the first day with pads on)
For the rookies it's the first time they've had football pads on in the NFL.  We told them that it's not that big of a deal but that you may be a moving target so prepare yourself for it.
(on Rennie Curran wearing number 53)
Well it's the only 50's number we've got available and we try to get the linebackers in the 50's.  We're going to have an issue with Will (Witherspoon), trying to get him in a number.  Rennie (Curran) was more than willing to do the best he could to carry on with the legacy because that number has been on our practice field and game field fairly consistently the last 10 years.
(on adding another cornerback, Pete Ittersagen to the roster)
Well we're down to four.  Typically we're at least six maybe seven for training camp and we got down to four healthy ones so we just need the legs for the reps.  There's an attrition factor.  When the numbers start to go, they really go.  If at all possible you want to avoid adjusting practice because of your numbers.  And if we get down at one position we go down further based on our experience so we needed to add to those numbers.
(on Alterraun Verner's contention for the starting role at cornerback)
Oh, he's legitimately in the running.  The things that we saw from him, not only prior to the draft, but basically the two weeks of the June OTAs he was fairly impressive.  He came in and made a lot of plays.  He's definitely in the mix there.
(on Michael Griffin's return to form)
You know just 100% commitment to the offseason program, to every snap, to everything he's doing.  He's turned a corner, he's having fun, he's focused and he's working on the little details of the position.
Daily Trivia Question(answer on Tuesday, August 3)
Which Titans player's father recorded music with a number of musical legends, including BB King and Ray Charles?
Titans linebacker Stanford Keglar is classically trained in which musical instrument?