NASHVILLE, Tenn. – Moise Fokou has played inside linebacker in a 3-4 and outside linebacker in a 4-3 but said the most critical component of a defense may not be alignment but identity.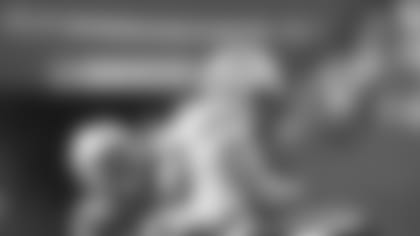 ](http://www.titansonline.com/media-center/photo-gallery/Career-of-LB-Moise-Fokou/93ea2f5c-4949-4f34-8f39-f1f8c388c5b7#5140cce1-8555-4395-83b0-ff651cc8482b)
Moise Fokou looks forward to helping Titans linebackers further establish their identity. Click here for a slideshow of Fokou's career in the NFL.
"At the end of the day, you have to have an identity of what kind of defense you want to be, what do you want the opposing offense to think of you?" Fokou said. "Offenses should think, 'Oh man, the Titans, we don't want to play them. Those boys are serious. They come to play.'
"So for a young team, a young defense, it's important to have an identity," Fokou added. "Identify yourself to the opposing team and I think that's probably the most critical thing and everything else will fall into place. We go to work every day to learn the scheme, to execute it to the best of our ability but we need an identity."
Fokou (his name is pronounced Moses FOE-koo) became the sixth free agent to sign with the Titans, joining S George Wilson, G Andy Levitre, RB Shonn Greene, TE Delanie Walker and DT Sammie Hill. He spent last season with Indianapolis after he was traded from Philadelphia, which drafted him in the seventh round of the 2009 NFL Draft with the 230th overall pick.
Fokou emerged from the final round of the draft and has played 59 games, including 23 starts. He played in all 16 games for the Colts last season and registered 46 tackles, one sack, one forced fumble and five special teams stops. He said the abrupt change that happened when he was traded during training camp helped him prepare for free agency.
"I think that little short change helped me come into free agency, in terms of being prepared for change and putting your best foot forward and just hoping for the best," Fokou said. "I'm really glad and grateful for Indianapolis for giving me the opportunity to go and help that young team."
Fokou is looking forward to helping another young team. He remembered how close the games between the Colts and Titans were last season. Indianapolis made a habit of winning close games last season (nine of their 11 wins were by seven points or less and six were by four points or less). Fokou credited the way the team responded to more severe off-the-field adversity with helping through hard times on the field.
"Once I got to Indianapolis, you could see this team was young but they had a lot of talent," Fokou said. "I would say that the horrific incident of our head coach (Chuck Pagano) having leukemia kind of forced — it was an emotional roller coaster for the team after they found out he had cancer, but I think having that happen to him forced that young team, along with interim coach Bruce Arians to grow up faster than it needed.
"A sense of urgency came over the team, and after we started piling up some wins, we really found an identity and believed in ourselves," Fokou continued. "It wasn't an emotional win anymore, it was that we were good enough. I feel like the situation kind of dictated it in Indianapolis and forced a young team to grow up faster than it needed to but in the right direction."
Titans general manager Ruston Webster said Fokou will be a great addition to a linebackers corps that has Akeem Ayers and Colin McCarthy prepping for their third NFL seasons and Zach Brown preparing for his second year in the pros.
"He is a physical player who brings versatility and the ability to play special teams," Webster said. "He has experience at all three positions and will bring competition to the linebacker group."
When Titans coach Mike Munchak announced the changes to his defensive staff he said he wanted new linebackers coach to develop the "best, baddest linebackers in the league."
Fokou said he's glad to sign up for that.
"I love that approach. Linebacker is not just a position. It's almost a way of life," Fokou said. "The linebacking corps is such a huge part of the defense, where we don't have to talk too much. We don't have to be shouting and yelling and jumping, we kind of play and show who we are through our presence, through our play.
"To do that, you have to be some of the biggest, baddest (guys) on the field. I definitely like that approach," Fokou said. "I think I play that way: relentlessly, physical and with a lot of passion and emotion, and I do like that style."