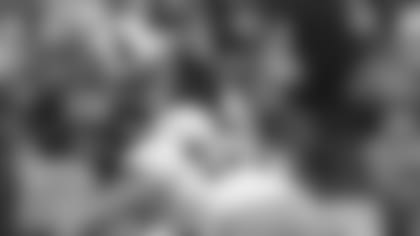 Rookie LB Colin McCarthy continues to make big plays for the Titans. He was named AFC Defensive Player of the Week after posting 11 tackles, two fumble recoveries and a forced fumble in Tennessee's 23-17 win at Buffalo.
NASHVILLE, Tenn. — The car flipped several times. A tree along Interstate 75 in South Florida finally stopped it.
It was a night in July 2007 when Colin McCarthy and his former University of Miami teammates Jermaine McKenzie and Robert Marve emerged from a collision that few survive. McCarthy was asleep while he and Marve were riding with McKenzie back to school from their homes in the Tampa area. McKenzie fell asleep and lost control.
McKenzie and Marve suffered injuries that shut down their seasons and eventually transferred. McCarthy suffered only a scar on his knee and walked away with an appreciation for the "blessing" of not being hurt worse and a mindset that he would take advantage of every opportunity.
McCarthy finished his collegiate career with 308 tackles (34 for loss) in 49 games with the Hurricanes. The Titans drafted him in the fourth round last April. Tennessee signed veteran middle linebacker Barrett Ruud when the lockout was lifted and began working with McCarthy and Ruud in training camp. After missing three games with a hamstring injury, McCarthy returned to the field at Carolina and started in place of Ruud, who had a groin injury. The rookie led Tennessee with 12 tackles.
"When I first got a chance against Carolina I kind of made sure they knew that they could count on me," McCarthy said. "I was prepared in myself, confident in getting them lined up so they knew they could just go out there and play their normal game."
He's continued to produce since being inserted into the lineup. McCarthy had a team-high 11 tackles, forced two fumbles, recovering the ball once with a hustling dive after he jarred it loose, and defensed a pass Sunday at Buffalo. It was the third straight week in which he had forced a turnover, and the performance earned him AFC Defensive Player of the Week honors, the NFL announced Wednesday.
McCarthy has 46 tackles (five for losses), one quarterback pressure, an interception, two passes defensed, two forced fumbles and two fumble recoveries this season.
Linebackers coach Frank Bush and defensive coordinator Jerry Gray routinely quiz McCarthy on his duties as the "quarterback of the defense" and worked with him on mental reps while he dealt with the hamstring injury. McCarthy vowed to Bush as they walked off the practice field the Friday before the Carolina game that he would know his assignments, which Bush said is critical to producing at the position.
"You've got to know exactly what you're doing," Bush said. "When you're the middle linebacker, you're the quarterback of the defense so you've got to have a general feel of what's going on all around you. You've got to make checks, you've got to help people get lined up, and you've got to do all that stuff in a very stressful situation. The fact that he's prepared and studied and gotten out his game plan even when he wasn't getting the reps is somewhat impressive."
Bush and Gray both admitted they were worried about McCarthy's timing and interaction with teammates at game speed because he had missed the physical reps that are so important to developing a rookie in a new defensive system. Gray said that's where the amount preparation and McCarthy's unique ability to process information help.
"What I like about Colin is he plays a lot of attention," Gray said. "He had been injured for a while and you wouldn't think that he had been paying attention, but all of a sudden, when you put him on the board and you quiz him — and I watch what Frank does for him a lot of times — he has the answer. That, to me, is a guy who is astute at what is going on."
McCarthy hurt his knee against Carolina, and again missed some practice time but relieved Ruud the following week at Atlanta. McCarthy entered the game in the second quarter after Ruud re-aggravated the groin injury. The rookie made 10 tackles and forced a fumble that kept the Titans within reach of the Falcons in the fourth quarter. He started the following week against Tampa Bay when Ruud was out and again led Tennessee with 11 tackles and recorded his first career interception.
"You start seeing consistency," Titans coach Mike Munchak said after the win against Tampa Bay. "McCarthy hasn't played a lot yet. You're seeing him show up against different opponents and how to adjust. He's playing through some injuries and weekly soreness. He's playing against different types of backs, which he's been doing a good job. He seems to be around the ball. He tackles well. I think it's real encouraging to see someone develop as quickly as he is."
Munchak said another key aspect in McCarthy's development has been the work ethic that he's brought since training camp.
"He's one of the first guys in the building and one of the last guys out," Munchak said. "He puts a lot of time into it. It's real important to him. He wants to be on the field, and that gives you confidence."
McCarthy said he's always invested time in knowing his assignment and what is expected of the other 10 defensive players on every play because that's what a middle linebacker should do.
"You've got to get everybody lined up," McCarthy said. "You've got to know not just what you're doing but what everyone else is doing — whether it's putting in more time, understanding tendencies, understanding what they want to do, you need to be willing to put that work in. When you play well, you see that it pays off. You've just got to keep pushing yourself, trying to get better, and good things will come."
McCarthy said the quiz sessions, where he's asked what opposing offenses will do and how he will prepare and "attack it," have helped him understand the "great game plans" that the coaches install each week and make the most of every opportunity.
"The more preparation you put into it, the more confident you are so you can just go out and make a play," McCarthy said. "If you see something on film, you've seen it all week so you just read and react."