**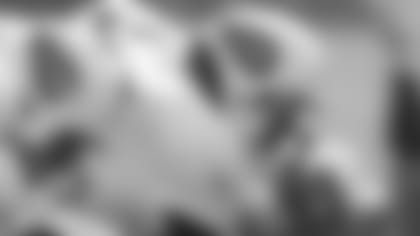 Veteran center Kevin Mawae returned to practice Tuesday at Baptist Sports Park.
NASHVILLE, Tenn. -** Tennessee activated All Pro center Kevin Mawae off the physically-unable-to-perform list Tuesday, and his first practice is the latest step in his recovery since tearing his right triceps tendon last December.
Mawae needed surgery in the offseason to repair the torn tendon. The 15-year veteran had targeted the season opener Sept. 10 at Pittsburgh for his return without setting a specific date to come back to practice. But Mawae met with coach Jeff Fisher and the medical staff Monday night and again Tuesday morning.
"I was at a point where I had to go on a field to figure out where I'm at in the rehab process and recovery process, and I feel good about it," Mawae said.
Mawae wore a hinged brace from his wrist to just past his elbow to protect his arm. He called the brace cumbersome but will wear it as long as they feel he needs the protection. He rotated into both individual and team drills and did more work than he originally expected.
He had been working with trainers throughout training camp and often working with other teammates after practice. Training camp concludes Wednesday for the Titans, and Fisher said they will focus on working Mawae back in. Whether Mawae plays in either of the final two preseason games or starts the opener was unclear.
"You can't just come out and practice one day and all of a sudden think it's behind you," Fisher said. "There's a lot of different things he needs to experience to make sure it's OK."
Mawae, who's trying to rebound in time for his 16th NFL season, said he was nervous Tuesday morning, the first time he had been that anxious about hitting the field in a long time.
"This whole process has been a day to day thing, week to week thing," he said. "That's the way it's going to stay for right now, and we'll reevaluate it in a week and whether or not I'll play or not."
NOTES: The Titans signed veteran offensive lineman Matt Lehr, and he joined the team midway through Tuesday's practice.
Lehr was drafted in the fifth round in 2001 out of Virginia Tech and has played for Dallas, St. Louis, Atlanta, Tampa Bay and New Orleans.
"Matt's been in the league eight years and can swing both center and guard," Fisher said. "We'll give Matt an opportunity to learn as quickly as he can and help us get us through practice and maybe a couple of ballgames."
The team still has one open roster spot, and Fisher said they might look at a receiver who can return kicks.