NASHVILLE, Tenn. — Titans quarterback Marcus Mariota was on the practice field on Friday, a bulky cast on his right foot, and getting around on a scooter.
No, it's not how he would've wanted it, but he was there – two days after surgery – and no one was surprised. Mariota will be at Sunday's game against the Houston Texans at Nissan Stadium.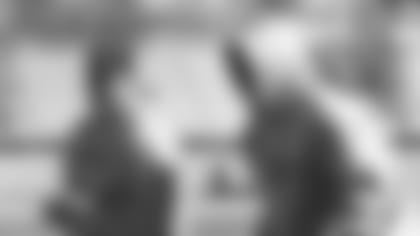 "It doesn't surprise me,'' Titans coach Mike Mularkey said. "I wish he was dressed a little warmer. But it doesn't surprise me. I know he wanted to finish … the season with his teammates and the only way he can finish it now is to be out here and be in meetings and we want him around. He is a large reason why we've had success this year."
Players said they weren't surprised when Mariota showed up.
"It's Marcus,'' tackle Jack Conklin said. "He's going to do everything to be a part of this team still. He is one of the leaders on this team and he proved that again today."
Mariota had surgery on his fractured right fibula on Wednesday in Charlotte, N.C., and he returned on Thursday evening. Mariota suffered the injury in Saturday's loss to the Jaguars. He was placed on Injured Reserve earlier in the week.
Mularkey said earlier in the week Mariota could need roughly 4-5 months of recovery time.
On Friday morning, Mariota showed up on the practice field just after 10:15 a.m. in a gray sweatshirt and shorts. He hung out with the quarterbacks in individual drills, and watched from the sideline with his teammates. Mularkey said Mariota made it clear he wants to be at the game on Sunday.
Mariota stayed until the end of practice, which was around noon. He was in the locker room after practice. Mariota attended meetings earlier in the day, just like he did prior to the surgery.
"Marcus is a team player, and a leader,'' receiver Rishard Matthews said. "For him to be out there showing support right after his surgery, it means a lot."
"That's how Marcus is,'' tight end Delanie Walker said. "He wants to be out there. He'd play through anything if he could play. But for him to support us, it just shows you want kind of guy he is, and what kind of teammate he is."
TitansOnline.com looks back at Marcus Mariota's second NFL season in 2016. (AP Photos)