**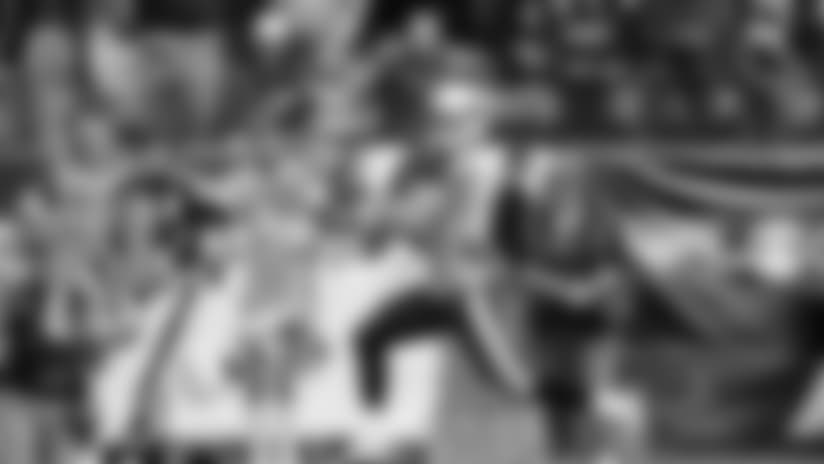 Rookie wide receiver Marc Mariani returns a kickoff 98 yards for a touchdown, giving the Titans a 17-13 lead in the third quarter.
NASHVILLE, Tenn. --** Marc Mariani left the locker room at LP Field Sunday with a football in one hand and a game program in the other.
The Titans rookie took home mementos of his first touchdown in the pros — an electrifying, 98-yard kickoff return that gave Tennessee its first lead against Denver — but he and the Titans left thinking about a ball and a win that got away.
Denver scored 10 points in the final 2:42, capitalizing on a 49-yard pass interference penalty called against Titans safety Chris Hope, and a short kickoff that bounced high and out of Mariani's reach. The penalty set up a touchdown to give the Broncos a lead, and the muffed kick allowed Denver to add a field goal and muffle Tennessee's shot at a comeback in the Broncos' 26-20 win.
Denver improved to 2-2, and Tennessee fell to 2-2, including 1-2 at home.
"I know what I'm supposed to do," Mariani said. "You can never practice every ball that comes your way. It's one of those ones that, 'Should have made this play, should have made that play,' but it's my responsibility, and I didn't get it done. (In) this game, there's ups and downs. I got 'em both (Sunday)."
The "up" brought a lively crowd to its feet and had the Tennessee sideline rocking. As Mariani walked from the corridor to leave the stadium, Titans rookie Alterraun Verner put his arm around Mariani and said, "That return you had amped me up."
Verner and nearly 70,000 others roared when Mariani made it through the opening and streaked past the Broncos sideline without a defender. Mariani raised his arms up into the air as he waited for his teammates to catch him and celebrate taking a 17-13 lead with 10:30 left in the third quarter. It was the first kickoff return for a touchdown by a Titan since Derrick Mason's 101-yarder in 2001.
"That's a feeling you can't explain," Mariani said. "I saw green grass and hit it. The guys in front of me were perfect. That's the way it should look when we execute. Crossing the line with 70,000 people screaming is pretty cool."
The Titans' offense however, netted just 46 yards the rest of the game, and in the fourth quarter, the "down" caused a gasp from the crowd to replace the roar.
After Denver took a 23-20 lead with under two minutes to play, the Broncos kicked into a brisk wind that stalled the ball. It landed at the 25-yard-line before Mariani could get to it and bounced above his reach as he was struck by two players. Denver recovered, ran some clock and settled for its fourth field goal by Matt Prater.
"They were kicking into the wind," Mariani said. "I was short to begin with but it just died. I was yelling as loud as I could, 'Short! Short!,' but that's my responsibility to make that play."
Coach Jeff Fisher said the Titans expected the wind to shorten the kick but a gust affected the ball's flight.
"We are not looking to blame anything on anybody," Fisher said. "That ball held up. Marc was lined up short. We moved our front line up. That ball got held up in the wind. There was a gust of wind and it actually went backwards, or stalled and came straight down. So, they got a unique bounce. It was one of those things that sums up the game."
Fisher and Denver coach Josh McDaniels said the wind affected the kicking game more than any other aspect.
The Tennessee defense held Denver to 19 net rushing yards on 20 carries, but Broncos quarterback Kyle Orton completed 35 of 50 passes for 341 yards and two touchdowns. Denver's biggest gain, however, occurred on the penalty against Hope.
Orton was being pressured but heaved the ball toward Jabar Gaffney. Hope reached Gaffney before the ball at the one-yard line, moving Denver from midfield. Tennessee was flagged a total of 10 times for 111 yards.
"I actually got a great break (on the ball)," Hope said. "I felt like the ball hung in the air a little longer than I thought. That's when it put me in position to play the receiver's eyes and not the ball. I can make that play eight out of 10 times, but it's pretty much in the offense's favor when the ball hangs in the air. Every phase of this team had a hand in the loss."
Cornerback Cortland Finnegan was on Gaffney's heels on the play.
"Orton just stepped up and made the play," Finnegan said. "It's tic-tacky, a lot of this stuff that (defensive backs) can and can't do. It's a tough game but they made the play."
Hope helped the Titans protect a 20-16 lead, defending an Orton pass on fourth and goal with 4:32 left in the fourth quarter, but Tennessee's offense sputtered.
The Titans were flagged for a 15-yard penalty on Denver's other touchdown drive. Tennessee defensive tackle Sen'Derrick Marks was called for hitting the quarterback too low.
"The quarterback needs to start wearing red or pink jerseys," Marks said. "The ref told me I hit him too low."
Marks added that maybe it should be "two-hand touch on the quarterback" and Finnegan called it the "Tom Brady rule."
"It's just crazy what you can and can't do nowadays on the defensive side of the ball," Finnegan added.
Verner, also a rookie, made his first career start at cornerback in relief of Jason McCourty, who suffered a fractured arm in Week 3 against the New York Giants. Finnegan said Verner played a "wonderful game."
"You ask the guy to step in there and do what he did," Finnegan said. "He had a lot of solos and he just kept the guy in front of him. That's all you can ask. I have no doubt that he will continue to make plays."
Verner had 11 tackles (all solo) and defended three passes.
Tennessee sacked Orton a season-high six times for a loss of 33 yards.
Dave Ball recorded 2.5 sacks, Jason Babin had 1.5, and Tony Brown and Finnegan each recorded one sack. Ball said he was disappointed in the way the loss unfolded and being flagged for offsides penalties.
"The worst way to lose in sports is in the end," Ball said.
Tennessee's defense has recorded 16 sacks in its first four games.
Bironas moves up scoring list
Kicker Rob Bironas moved into second in scoring in Oliers/Titans history. Bironas nailed a 55-yard field goal on the final play of the first half to tie the game at 10 and pass former Oilers great George Blanda's 598 points. Blanda, an original Oiler who led the team to American Football League Championships in 1960 and 61 and NFL Hall of Famer, passed away Sept. 27 at the age of 83.
Bironas added a 46-yarder in the second half but missed a 35-yard attempt in the first quarter. Bironas has 603 points in in six seasons with the Titans, and extended his streak of 14 consecutive games with a field goal.
Al Del Greco (1,060 points) is the franchise leader in scoring. Del Greco kicked 246 field goals and 322 points in 10 seasons with the Oilers/Titans.
Kenny Britt reeled in a toss from Young for the Titans' first touchdown, marking the second scoring combo in as many weeks. Young hit Britt on an out route at mid-depth in the end zone, and the second-year receiver planted both feet for the score.
It was the fifth career touchdown catch for Britt, who caught a scoring pass over the middle from Young in Tennessee's Week 3 win over the New York Giants.
Fisher became the eighth person in NFL history to coach 250 regular season games with the same team. He is nine games behind Bud Grant (Minnesota Vikings 1967-83, 1985) for seventh all-time. George Halas (Chicago Bears 1920-67) leads the list with 497 games coached with the same team.
Fisher tied Bill Cowher (Pittsburgh Steelers) with the ninth-most overall games with one team (261).