**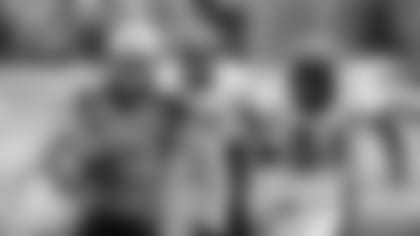 Marc Mariani is hoping to make an impact on special teams at San Diego.
NASHVILLE, Tenn. -- **Marc Mariani has seen the highlights of punt and kick returns for touchdowns that the Chargers have allowed this season, but the Titans' rookie isn't taking anything for granted.
Kansas City rookie Dexter McCluster reeled off a 94-yard punt return for a touchdown in Week 1, and Seattle's Leon Washington scored on kick returns of 101 and 99 yards in Week 3.
Mariani returned a kickoff 98 yards for a score against Denver in Week 4 and followed with a 73-yarder the next week in Dallas. He has noticed the long returns against San Diego, but said the Chargers have improved their coverage in recent weeks.
"They have had some big ones but you can't expect that because they're all pros and they're all the best at their position," Mariani said. "They're going to come ready to go, so we've just got to do our thing."
Titans special teams coach Alan Lowry said San Diego players have come back from injury, and it showed last week against New England, when the Chargers allowed just 44 yards on three kickoffs and 36 yards on two punt returns.
"They've had a lot of injuries and a lot of different personnel out there," Lowry said. "(They have) a good kickoff coverage team, but they've had a lot of different guys out there. They really had a good game against New England last week in punt and kickoff coverage."
Lowry said San Diego's problems have been a combination of things or as simple as one missed tackle, but the Chargers have good personnel.
The Chargers have allowed 748 yards on 31 kickoff returns for an average of 24.1 yards that is slightly worse than the league average of 23.2. San Diego is allowing 23.6 yards per punt return. As a comparison, the Titans have allowed 5.9 yards per punt return, and the league average in punt return yardage allowed is 9.3.
"The numbers are kind of deceiving because they have had the big ones but when it all averages out, they're not as bad as it seems, numbers-wise," Mariani said. "They are very skilled, so we're not taking them lightly at all. We're going to prepare like we always do."
Mariani is averaging 28 yards per kickoff return (tied for 10th in the NFL) and is averaging 10.4 yards per punt return (18th in the NFL). Mariani is tied for eighth in the league with 15 kickoff returns of more than 20 yards.
Philadelphia kept Mariani from returning a single kickoff, thanks to five touchbacks on kicks by David Akers, but the seventh-round pick did average 10.8 yards on four punt returns against the Eagles. Dallas kept Mariani from a big kickoff return until its final kickoff, when the Cowboys were assessed a 15-yard penalty and forced to kick from their own 15-yard-line. Mariani's return of 73 yards set up the Titans for the decisive score.
He will be patient but ready this week.
"They have a ton of athletes out there flying around," Mariani said. "It doesn't matter what they've given up, they're going to come to play. We just need to go and execute our game plan."
Bironas Going Strong, Kern Boots Career Long
Sixth-year pro Rob Bironas is tied with Oakland kicker Sebastian Janikowski for the league lead in scoring with 63 points. Bironas has made 14 of 15 field goals and all 21 point after touchdown kicks this season. He has a streak of 17 straight games with at least one made field goal, which ranks second in franchise history behind his streak of 19 (2006-07).  
Third-year pro punter Brett Kern has been the holder on the field goals and extra points kicked by Bironas. Kern booted a career best 68-yard punt against Philadelphia Sunday. Kern punted four times for 192 yards (48 per attempt) and had a net average of 44 yards against the Eagles.
"Both those guys have been everything that we hoped they'd be right now," Lowry said.