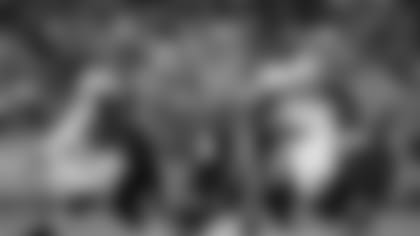 Top draft pick Jake Locker tossed a 45-yard touchdown pass in his NFL debut Saturday night.
NASHVILLE, Tenn. -Matt Hasselbeck, the veteran quarterback signed to win now and show Jake Locker how it's done in the NFL, might have made his best move after their debut in Tennessee.
Hasselbeck gave new coach Mike Munchak the game ball Saturday night after the Titans beat the Minnesota Vikings 14-3 in the preseason opener for both teams.
"It was just the right thing to do, and someone needed to do it, so I did it," Hasselbeck said.
"Munch is a guy that's basically been with this organization his whole career as a player and a coach. He's just one of the guys. There's a ton of respect for him there ... but I think it was something ceremonial, kind of a historic moment in a way for him. I know it's a preseason game. ... but this was a big night for him, probably a dream come true."
The Titans are billing this as the start of a new legacy under Munchak, the Hall of Fame offensive lineman and former assistant coach promoted in February after Tennessee parted with Jeff Fisher. A video was played during a timeout on the opening series to help make fans more familiar with Munchak.
"We all know it's a preseason game but no matter what you do, you win it," Munchak said.
Hasselbeck got the start, and Locker threw a 45-yard touchdown pass. Hasselbeck looked sharp in his lone series. He completed 5 of 6 passes for 55 yards in an opening drive marred by a botched handoff that created a 30-yard loss. Hasselbeck took the blame for colliding with fullback Ahmard Hall.
Locker, the eighth pick overall from Washington, had his moment, too. He dropped the ball off the snap before picking it up, rolling to his right and throwing a perfect pass to Yamon Figurs for a TD. Locker played one series into the third quarter, and he was 7 of 10 for 89 yards with a passer rating of 130.8.
The rookie said his instinct was to pick up the ball and either run or throw when he saw Figurs waving his arms wide open.
"Crazy way to have your first touchdown pass, but again, that will be a great story for him to tell," Hasselbeck said of Locker's TD.
And the Titans took a step toward the disciplined approach Munchak wants.
They looked much more crisp despite those bobbled snaps with the offense outgaining the Vikings 111-33 in the first quarter. The defense forced two turnovers in the second quarter and had four sacks overall.
This marked Donovan McNabb's first start for Minnesota. He probably should have quit after his first series when he completed four of his first five passes before having the sixth knocked down by rookie linebacker Akeem Ayers. McNabb came back for a second series before leaving the game 6 of 11 for 40 yards.
"It felt good," McNabb said. "I thought we had a great flow with the offense. Our timing and chemistry was where we needed to be. I thought as an offensive unit we were in and out of the huddle in enough time to make checks if we had to. That's where you want to start in the preseason."
Vikings coach Leslie Frazier gave Adrian Peterson only one carry for 3 yards before pulling his star running back, and he scratched starters defensive end Jared Allen, cornerback Cedric Griffin and tight end Visante Shiancoe.
"We wanted to be able to take a look at some of the other guys, and this gave us a good opportunity to do that," Frazier said. "Now, next week they'll play more, but this was an opportunity for us to look at some young guys and just try to determine if they can help us or not."
The Vikings also have a highly drafted rookie quarterback in Christian Ponder. Frazier put Joe Webb into the game once McNabb left, and Webb started the third quarter and drove the Vikings to a 37-yard field goal by Ryan Longwell. Webb had five carries for 33 yards, and was 4 of 8 on passes for 45 yards and an interception.
Frazier said Ponder will get his chance with the second-team at Seattle.
Ponder finally got on the field with 7:55 left, and the 12th pick overall was sacked three times -- the last by former Florida State teammate Myron Rolle.
Hasselbeck completed his first four passes for 47 yards and had Tennessee down to the Minnesota 16 before the bobbled snap to Javon Ringer bounced away. Ringer started in place of holdout Chris Johnson. The play turned into a 30-yard loss before Ringer covered the ball.
The Titans also bogged down at the Vikings 21 on Locker's opening drive before Rob Bironas missed a 38-yard field goal wide left.
Rookie Jurrell Casey ripped the ball away from Vikings running back Lorenzo Booker and recovered it in the second quarter to set up Locker's TD pass a play after the turnover. Safety Jordan Babineaux, another free agent signee away from Seattle, intercepted Webb's pass on the Vikings' next offensive play.
Jamie Harper, a fourth-round pick out of Clemson, capped a four-play drive with a 2-yard TD run to put Tennessee up 14-0 at halftime.
NOTES: Titans DE Derrick Morgan had a sack. The first-round draft pick a year ago, Morgan is coming back after tearing his left ACL in his fourth game. ... Griffin is returning from knee surgery after tearing an ACL in October, and Shiancoe was out this week with a hamstring injury ... Asher Allen started for Griffin, and Kleinsasser started for Shiancoe. ... The Titans sat WR Kenny Britt and DT Sen'Derrick Marks, and rookie Karl Klug started for Marks. Justin Gage started for Britt. The Titans also scratched S Robert Johnson (hamstring) and Nick Schommer (hamstring) and LS/LB John Stokes (shoulder).