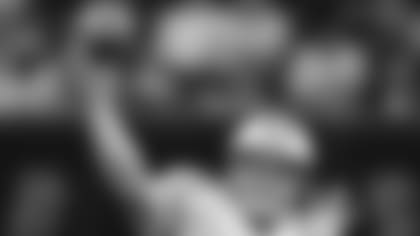 Rookie Jake Locker completed 15-of-17 passes for 132 yards and a touchdown. He also rushed three times for 39 yards and a TD.
NEW ORLEANS --Tennessee's rookie quarterback Jake Locker may not have beaten out Matt Hasselbeck of the Titans' stating job. He certainly added a bit of sparkle to an otherwise lackluster game Thursday night, leading the Titans to a 32-9 victory over the New Orleans Saints.
"He's getting better every time he steps on the field," said Tennessee coach Mike Munchak. "He made plays with his legs, which we knew he could do, and he made a great throw on the touchdown pass. We're real happy with how he's progressed. We feel like we can win with two quarterbacks. That's a good thing to have."
The Titans' first-round pick, who is expected to press Hasselbeck for the starting job at some point this season, completed 15 of 17 for 132 yards and a touchdown. He had a 118.6 quarterback rating, playing just over three quarters.
"The more snaps you are able to take in a live-game setting, it's to your advantage as a player," Locker said. "Seeing defenses, coverages and pressures allows you to make mistakes and learn from them. The only way you are able to do that is to get out there."
Saints backup QB Chase Daniel was not as impressive, completing 29 of 39 for 249 yards. He was sacked twice. His only TD drive came in the fourth quarter when Montez Billings capped a 66-yard drive with a 2-yard reception.
"It felt good to be out there for the whole game," Daniel said. "It had been a while since I had the opportunity to do that, but it was sloppy. The first half was maybe the sloppiest football I've ever been a part of. Every time we had something going there would be a fumbled snap or whatever."
The Titans' defense scored first as defensive tackle Karl Klug chased Daniel into the end zone and sacked him for a safety. It was the first safety New Orleans allowed since the second regular-season game of 2009, the Saints' Super Bowl season.
Ron Bironas added the first of his three field goals, a 32-yarder to put Tennessee up 5-0 going into the second quarter.
Tennessee stretched its lead to 22-0 at the half with Locker's 22-yard scramble, a 47-yard field goal, and a 12-yard touchdown reception by Lavelle Hawkins.
Bironas hit a 41-yarder in the third quarter that made it 25-0.
Damian Williams returned a punt 52 yards in the fourth quarter for a touchdown that closed out Tennessee's scoring.
The final preseason game for both teams was a battle of the backups. The Titans briefly played 10 of their regular starters, including quarterback Matt Hasselbeck, who took nine snaps, and five defensive starters.
Tennessee agreed to a $56 million, six-year deal with starting running back Chris Johnson earlier Thursday. He will be a welcome addition for the regular season. Six Titans runners churned out 118 yards against the Saints, and the only TD rushing was Locker's.
"It was good news this afternoon," Munchak said. "Everything officially done. I'm sure he's very happy. I know we are."
New Orleans had one offensive starter in early and seven defensive starters played for a short time.
Saints starting quarterback Drew Brees, like all the offensive starters except left guard Carl Nicks, sat out. New Orleans opens the season next Thursday at Green Bay in the kickoff game for the regular schedule.
New Orleans signed veteran kicker John Kasay on Tuesday after Garrett Hartley hurt his right hip while kicking an extra point against Oakland. Kasay missed a 39-yard field goal and an extra point Thursday night before connecting on a 38-yard field goal.
"I thought that third kick was critical," coach Sean Payton said. "I thought it was important for his confidence."