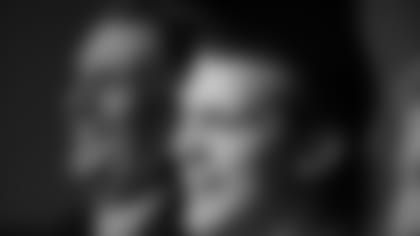 Jake Locker smiles during a news conference introducing him to Nashville reporters in April. The rookie QB is in town for the next two weeks for unofficial workouts with his new teammates.
NASHVILLE, Tenn. —** Tennessee Titans rookie quarterback Jake Locker has joined his new teammates for the first time for unofficial workouts in Nashville.

The Tennessean reported that the Titans' first-round draft pick joined 14 teammates at Nashville's Father Ryan High School for conditioning drills on Tuesday morning. He says he plans on working out with teammates for the next two weeks.

Locker, who has been working out in his homestate of Washington and in Los Angeles, won't sign a contract or receive any salary until the ending of the NFL's lockout, which prohibits contact between the coaches and players.

Locker says he feels comfortable around the other Titans players and wants to work hard to show them how important the opportunity is to him.

"Just to be around them and spend time with them and feel comfortable with them, that's important," Locker told the Tennessean. "I think they are just excited to play football. I just want to come out here and work hard and show them that it means something to me."