**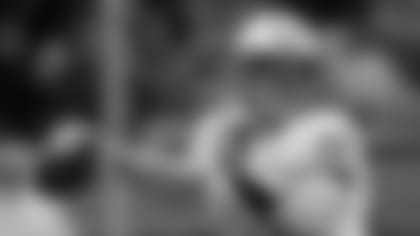 Jake Locker is the newest Titan after being selected eighth overall by Tennessee.
NASHVILLE, Tenn. –** The Tennessee Titans entered a new era at quarterback Thursday night, selecting University of Washington's Jake Locker with the eighth overall selection in the first round of the 2011 NFL Draft.
Locker's selection gives the Titans one of the draft's top athletes, a player many considered to be the top pick had he come out of school a year ago, and someone they can build around as the team's quarterback of the future.
The Titans spent time scouting Locker at the Senior Bowl, the NFL Scouting Combine, his pro day at Washington, a private workout at Washington and during a visit to Nashville.
"Just eyeballing it, seeing how intense he was, I just pictured myself in the huddle with this guy and I thought, 'Man, these guys will love playing for this guy.' I think he's got something special like that where he'll bring out the best in other players. I think they'll want to play hard for him," Titans head coach Mike Munchak said. "I think if it's third-and-six, he's getting seven.  I think he's one of those kind of guys that is going to find a way to win for us. I think that the guys in this building will believe in him."
Locker quickly drew the praise of several NFL analysts, including NFL Network's Jim Mora Jr., who had a strong opinion of the Titans' new signal-caller.
 "This guy was only coached by a quarterbacks coach for two years when Doug Nussmeier came in with Steve Sarkisian at Washington," Mora said. "He's on the rise. This guy has tons of upside. He's the kind of face you want representing your franchise. You want your daughter to marry this guy. He's just as good as they get."
For Locker, entering the NFL is a dream come true.
"It's just exciting. It's something that I've watched ever since I was real young," Locker said. "I love playing the game of football. It means a lot to me. I'm very passionate about the game and I play it that way.  I like to respect the game and its rules and the players that play it. I've loved the intensity of the game ever since I first started playing. Football has always been a part of my life."
Locker expressed to Titans fans what they can expect from him.
"Every time I step on the field I'm going to give you as much as I can and I'm going to be accountable to you,'' he said. "I think that kind of embodies a lot of different things. I'm going to play hurt as long as I can as long as I'm still going to be effective and those sorts of things, and I want to be here for this football team and be a part of it.''
Locker completed 184-of-332 passes (55.4 percent) for 2,265 yards, 17 touchdowns and nine interceptions, leading Washington to a 7-6 record his senior season. The team captian added six rushing touchdowns, carrying 114 times for 385 yards (7th in school history) in 12 starts for the Huskies. He capped his collegiate career with a 19-7 win over Nebraska in the Holiday Bowl and was named All-Pac 10 honorable mention.
Locker said his mobility and athleticism are some of his strengths he brings to the NFL.
"Also being able to extend plays and throw from outside the pocket," he said. "I believe I'll be able to make all the throws that I'll be asked to make."
In the 40 games that he appeared in and started for Washington, Locker amassed 9,578 yards in total offense, ranking second all-time on the school's record list behind Cody Pickett (10,103 from 1999-03), a mark that ranks 11th in Pac-10 history. His 7,639 passing yards and 53 touchdown passes also place second in school annals.
"I am very proud of what I accomplished while I was at school," Locker said. "I don't believe the numbers were indicative of the success that we had and how far we came as a program, along with myself as an individual. I'm excited about the opportunity to play at the next level."
Locker defends his career statistics, despite drawing criticism from NFL analysts about his completion percentage that dipped from 58 percent as a junior to 55 percent his senior year. 
"Obviously the numbers aren't where you want them to be, but sometimes that's not the most telling thing," Locker said. "I truly believe I'm a more accurate passer than that. I want to show everybody that I can make the throws that I'll be asked to make and can do it on a consistent basis."
Locker said one reason his completion percentage dipped was he threw the ball away more than he did the year before to avoid negative plays.
"I think the biggest thing is I became a smarter player," Locker said. "We didn't force the balls into holes where it got intercepted and I threw the ball away when I was running outside the pocket instead of taking a three-yard loss on a scramble. It's those little things that we considered winning plays in our quarterback room that might hurt your completion percentage."
Locker started all 12 games as a junior in 2009, setting career-highs by completing 230-of-395 passes (58.2 percent) for 2,800 yards with 21 touchdowns and 11 interceptions. Locker added 388 yards (112 carries) and seven touchdowns on the ground.
One of his signature games came on Sept. 19, 2009 when he led the unranked Huskies to a 16-13 win over third-ranked Southern California. Late in the fourth quarter, he engineered a 68-yard drive that ended with a 22-yard field goal with three seconds remaining that put the Huskies up 16-13. The win allowed the Huskies to move to 24th in the Associated Press poll, the first time they had been ranked since the 2003 season.
A broken thumb limited Locker's season to four games his sophomore season.  The year before, he set UW records for rushing yards in a season by a freshman (986), rushing yards in a season by a quarterback (also a Pac-10 record), rushing attempts by a quarterback (172), passing yards by a freshman, touchdown passes by a freshman and longest pass completion (98 yards to Marcel Reece vs. Arizona).
Munchak applauded Locker's accomplishments, which included overcoming injuries, enduring two head coaches and three offensive systems.
"For us, to watch him handle stuff like that is impressive,'' Munchak said
Locker was also in high demand as a baseball player, having signed a six-year contract with the Los Angeles Angels of Anaheim in 2009 after twice being selected in the Major League Baseball Draft during his prep and college careers as an outfielder and pitcher. 
His baseball contract becomes void once he signs his NFL contract.
"It was just an opportunity that presented itself and it was something I didn't believe would take away from me as a football player," Locker said. "I want to play football and that's what I'm going to put all of my focus into."
Locker also said he doesn't regret returning for his senior season at Washington, despite leaving money on the table by not entering the NFL Draft a year ago.
"I'm proud of it,'' Locker said. "Life's not about money. Money doesn't make you happy. It's nice to be able to have financial stability, but it's not the most important thing in life to me. It never has been and never will. The experiences I got to go through last year, my whole college career, because I turned down that, I'm thankful for and I'm a better person because of it. There are things I will hold on to for the rest of my life and I wouldn't trade for any amount of money at this point.''
With football his focus, Locker said he's been working all off-season to fundamentally improve so he can better succeed in the NFL.
"I think being able to spend time over these last few months strictly working on the fundamentals of playing the position has been helpful," he said. "I have no worries about going through progressions and reads. I'm just working on the physical aspect and the little details that can make me that much more successful. It's been very beneficial to me and allowed me to work on the little things that I need to in order to improve my game."