NASHVILLE – In many ways, it's like old times for Titans center Hroniss Grasu and quarterback Marcus Mariota.
College teammates at Oregon, Mariota has been reunited with Grasu on the practice field. The two live together – in Mariota's house in Nashville – just like in the past.
Grasu, who signed with the Titans in February, said the experience so far in Tennessee has been great.
"Every day is a great learning experience, learning the whole offense and getting to know all the guys has been great," Grasu said. "Every single day has been a pleasure coming to work, and getting to work with all of these guys, all the coaches.
"And being around Marcus, it's been great, too. He is obviously my best friend, one of the best teammates I've ever had. He is nice enough to let me stay with him. Marcus is family to me. He is like my brother, and his entire family is like a second family to me. … So if I have any kind of question with the offense, he is always there to answer it. Just being around him again, it's been great."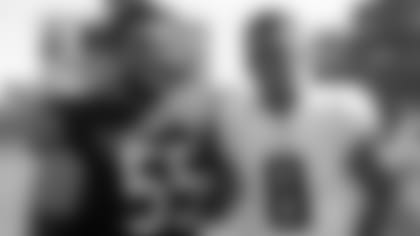 Grasu (6-3, 301) previously spent time with the Bears, Ravens and Dolphins since entering the NFL in 2015, the same year as Mariota.
Drafted in the third round by the Bears, Grasu has played in 17 games, with 13 starts. He missed the 2016 season with a torn ACL after spending that offseason working under the tutelage of Hall of Famer Kevin Mawae, a Bears assistant the time. As a rookie for the Bears, Grasu started eight games at center. Following the 2016 season, he started four games at center in 2017.
Grasu was waived by the Bears at the end of the 2018 training camp and signed with the Ravens, where he played in three games. Grasu also spent the month of December with the Miami Dolphins, before being waived.
In Tennessee, he has his work cut out for him while competing behind starting center Ben Jones and others. In addition to Jones, center Corey Levin also returns with experience inside, and the team has other options as well.
Grasu knows he'll have to perform well to give himself a shot in the competition. Grasu has mainly worked at center, but he played some guard in Baltimore as well.
"Nothing is given to you," he said. "I know I have to work hard every day, and I have to prove myself every day to this team, that I can be the type of player they are looking for. Obviously things in Chicago didn't go as planned, but it's how you react to it. I am very fortunate and blessed to be here. It is a privilege to be here.
"And I am willing to do whatever the team asks me to do. I'll hop on one leg for the entire time, be a water boy, whatever. That's the type of guy I am."
A two-time All-America performer in college, Mariota took snaps from Grasu at Oregon for three seasons from 2012 through 2014. Grasu started 50 consecutive games at center at Oregon and earned first-team All-PAC 12 honors three times.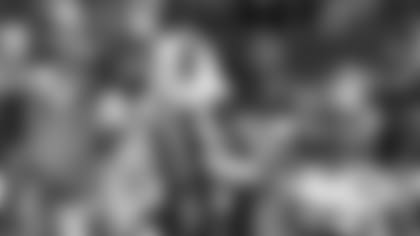 While Grasu is adjusting to a new team, and a new city, living with Mariota again has been a snap. The two train together – and live together – every offseason.
"It's been great," he said. "Marcus and I have the same type of schedule, we're the same type of people. We're both low-key. We just get home, relax, study some football, watch some film, put the Golf Channel on and go to bed by 8:30. I am not even kidding, that's bed time."