NASHVILLE, Tenn. — Eddie George thinks highly of Titans left tackle Taylor Lewan. In fact, he believes he's a future All-Pro.
Lewan, heading into his second NFL season, has a great deal of respect for George, who ran for 10,009 yards in eight seasons with the franchise.
Listening to them talk, it's like they forgot they were on opposite sides of the Ohio State-Michigan rivalry.
"For a man who went to Ohio State to say something like that about me,'' Lewan, who played at Michigan, said with a smile. "How about that? I have to say I always admired the way he played, his enthusiasm and his heart. To get a compliment like that is huge, especially from an Ohio State guy."
George won a Heisman Trophy at Ohio State. Lewan, a first-round pick by the Titans in last year's draft, was an All-America performer at Michigan.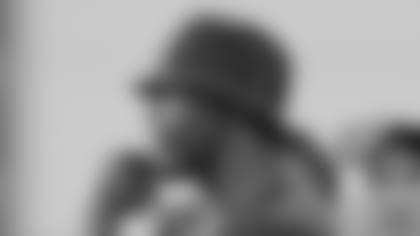 George attended practice earlier this week, and was impressed with Lewan. He believes the team has another franchise cornerstone at the position, in fact.
"Outside of Marcus, the next leader I look at is Lewan,'' George said. "He is a future All-Pro in the making. He has the work ethic, the attitude, he looks the part. He looks like he is in shape, and he looks like he is ready to take that next step as a leader. His downfield blocking, that is the nastiness I like to see up front. Now you have to practice like that every time you put your pads on, but it looks like he is ready to step up and take that on."
Lewan, who started six games for the Titans last season, wants to prove George right.
"It's a great compliment he paid me, but the work is not done yet,'' Lewan said. "There is so much more that I have to do to get those (compliments) and the fact they are coming now is a great feeling.
"I think I have always had a good work ethic. I am just going to keep doing my job. As for Eddie, that was nice of him to say. Every time I've been around him he's always been very cordial and nice."
Titans Online looks at the 2014 season of Taylor Lewan, who became the first Titans/Oilers rookie to start at least six games at left tackle since Brad Hopkins in 1993. (AP Photos)