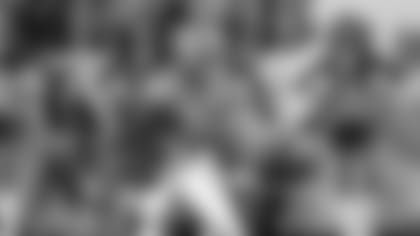 Cornerback Jason McCourty flashed his potentially early last season, intercepting a pass against Buffalo in the Pro Football Hall of Fame Game.
NASHVILLE, Tenn. --** While Sunday, Oct. 18, 2009 was a day that most Titans fans would like to erase from their memory, the snowy loss in Foxborough serves as a source of learning and growth for several Titans players.

Among them is second-year cornerback Jason McCourty, a man who remembers the 59-0 loss to the Patriots better than most.  The loss marked the third consecutive start in his rookie campaign and put the Titans at 0-6 heading into their bye week.

All-Pro cornerback Cortland Finnegan and veteran Nick Harper were among the key players injured early in the season, forcing McCourty into action earlier than expected.  Though surprised that it happened sooner than he thought, being an NFL starter was something that McCourty had in his sights for a long time.

"Definitely starting was always a goal of mine," he said. "I just tried to go out there and prepare for that week to help the other guys."

Unfortunately, McCourty's experience with the starting defense was anything but glamorous. His first NFL start came in a 37-17 loss in Jacksonville that saw Jaguars quarterback David Garrard compile 323 yards through the air.  A 31-9 loss at home to Peyton Manning and the Indianapolis Colts came next, only to be followed by the record-setting defeat at New England that saw Tom Brady throw for a record six touchdowns.

All three games served as a serious wakeup call for the sixth-round pick out of Rutgers.  It isn't often that a player as young as McCourty is pushed to the top of the depth chart against such daunting veteran passing attacks. Even so, McCourty tried to stay positive and use the experience from playing against two of the NFL's elite quarterbacks to help him improve.

"Those guys are tremendous players. Being out there, you learn that," he said.  "There's a little more to doing it than just watching it.  You just have to watch film and continue to improve your game."

Without Harper -- a starter in 2009 -- returning to the team, and injured veteran Rod Hood out for the season, McCourty enters the 2010 campaign hoping to win the starting position opposite of Finnegan.  Coming back into camp for his sophomore season, he feels more prepared for the trials and tribulations of the NFL.

"I'm working on different things.  Last year I focused on trying to learn the defense.  This year I'm trying to work on my skills, trying to improve on things I was bad at last year," McCourty said. "This year I can focus on my weaknesses and worry less about the mental part of the game."

Winning the job won't be easy with fierce competition coming from 2009 draft pick Ryan Mouton, rookie Alterraun Verner, and former Clemson and St. Louis Rams first-round pick Tye Hill.  Many analysts view this as one of the most interesting camp battles in the AFC, and rightfully so.

Mouton brings similar experience to the table as McCourty, having started two games in 2009.  Verner, a third-team All-American in 2009 at UCLA, has enough talent to start, depending on how quickly he can handle the transition to the NFL.  Hill, who signed as an unrestricted free agent from Atlanta, is entering his fifth season and is looking to rebound from a disappointing experience with the Falcons last season by bringing speed and proven experience to the table.

"All four of us are great players," McCourty said. "It's going to be tough out there.  You've got to go out there every day and play your hardest because you know you've got three other guys that want it just as bad and they're willing to compete for it.  We don't talk about it in the locker room, we just go out there and help each other and play football."

Competition for starting roles is widespread throughout the McCourty family, as his identical twin brother Devin, a rookie cornerback in New England, is battling for a starting position as well.  Devin was drafted in the first round by the Patriots this season and recently signed a five-year, $13-million contract.  The two brothers played alongside each other for three years at Rutgers and remain close.  So while McCourty focuses on winning the Titans starting cornerback position, he can't help but pull for his brother to win the starting Patriots role as a rookie.

Regardless of the outcome in Titans camp, the winner of this position battle will line up opposite of Finnegan, who likes the depth of the defensive backfield as training camp gets started.

"When you have backups as good as your starters, that breeds for a good football team. We have that right now," Finnegan said. "Any one of those corners can go out there and start and get the job done.  That's a good thing to have.  I even think it pushes me because whoever they put behind me is willing and able to start."

Finnegan is especially pleased with McCourty's offseason work ethic.  "Last year Jason was thrown in the fire early and he got on-the-job training real fast.  Now he's got his confidence and his swag back and he's going to make a real good push to be the starter.  If you ask me, out of every secondary player, he's been the most consistent guy.  His work ethic just speaks volumes to me."

Good friends on and off the field, Finnegan and McCourty will look to improve a Titans secondary that finished 31st in overall passing defense last season.  The focus for the secondary during training camp is to rebuild confidence, improve the unit's chemistry and return to the status as one of the NFL's most feared units.

"We're just getting back to the basics.  (Secondary) Coach Marcus Robertson talked about building a foundation, so that's what we're trying to do this camp," McCourty said. "We're just trying to improve on those mistakes we made last year and trying to get better as a unit."