INDIANAPOLIS, Ind. – Leonard Williams lining up across from Jurrell Casey in Dick Lebeau's 3-4 defense is not a farfetched possibility in a few short months.
Williams is widely considered the top defensive player in the draft and could be a Titan should general manager Ruston Webster opt to not pick a quarterback or trade out of the second overall selection.
Williams entertained the idea of playing alongside Casey when he met with national reporters on Friday.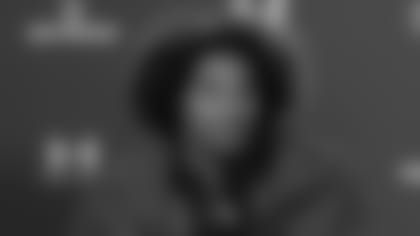 "That would be a lot of fun to play with a former Trojan," said Williams. "Trojans always have that connection. We're strong alumni. It would be great to play side by side with him. I know he's been doing great in his profession so far."
Titans brass has already met with Williams and gave him Casey's phone number.
Williams weighed in at 305 pounds, but he doesn't look it with his 6-foot-5 frame. A physical specimen, he is looking to be a disruptive force in the NFL with a career he hopes will compare to the likes of Texans DE J.J. Watt.
"I try to be mostly myself as much as possible," Williams said. "At the same time one guy I look at a lot is J.J. Watt. He's been one of the best defensive players in the league for the last few years and he's very versatile like I see myself. When I see the film, I see how the coaches try to make mismatches for him. I try to pattern myself after a lot of things he does."
The pop warner football leagues in his home of southern California wouldn't accept Williams because he weighed too much. That meant the man known as the "Big Cat" didn't start playing football until high school.
At USC, Williams collected back-to-back first team All-Pac 12 honors and was named a second team All-American in 2014. He finished his Trojan career with 21 career sacks and two interceptions.
His ability to play in any defense is what makes Williams special. There isn't a team that Williams couldn't make an immediate impact on. He said his best fits would be as a pass rushing three-technique tackle in a 4-3 or a five technique defensive end in a 3-4.
Williams all but called himself a sure thing when he said he wants to be the number one pick in this year's draft.
"I would say that from the previous years sometimes it's like taking a chance when you take a quarterback," he said. "You never know what you're going to get. I would say that I'm going to bring that disruption and physical-ness and I'm going to get to the quarterback and get some sacks."
His decision to leave USC and forgo his senior season had more to do with family than football. Williams' mother raised five Leonard Williams-sized children as a single parent, always making sure there was food on the table for everyone.
"It actually was a hard decision," he said. "College was a lot of fun and I've built a lot of great relationships with coaches and players there. It was definitely hard for me to leave, but I have a single mother who is taking care of five children and a small family. Some family factors had to tie into that. I had to make the decision to leave."
In a few short months, Williams will have the means to return the favor.
"I definitely want to get her a house," he said. "Growing up with her, I had to move around a lot. We never really had like a hometown neighborhood because we had so many different houses. I want to get her a house and make her stay there."
RECOMMENDED: