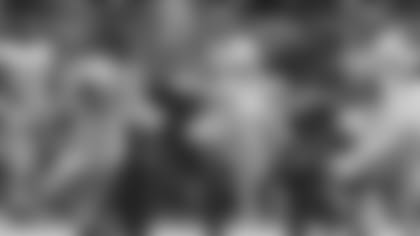 NASHVILLE, Tenn. – As tough as things have gone for the Titans, it's been tougher sledding for the Washington Redskins. At 1-5, Washington's lone win came in a Week 2 throttling of the Jacksonville Jaguars.
A large part of Washington's struggles can be attributed to its difficulty converting third downs and propensity to turn the ball over. The Redskins are tied for last in the league with both a -9 turnover differential (New York Jets) and a 32 percent success rate on third down (Tennessee Titans).
Jay Gruden is in his first season as head coach of the Redskins after spending the last two seasons as the offensive coordinator in Cincinnati.
The Redskins are without their starting quarterback as Robert Griffin, III , who dislocated his ankle in Week 2. Gruden said RGIII doesn't have a timetable for his return, but he did go through individual drills on Wednesday. That means third-year pro Kirk Cousins still has the reins to the Redskins' offense and will be under center against the Titans this Sunday.
Here is everything you need to know about the Redskins following the weekly conference calls with Gruden and Cousins.
Cousins has had a bipolar start to his 2014 season. After being thrown into the game in Week 2, Cousins completed 22 passes for 250 yards, two touchdowns and zero interceptions in a victory over the Jaguars. In Week 3, he went toe-to-toe with the high-powered Eagles offense, throwing for 427 yards, three touchdowns and one interception.
In the three weeks since, Cousins has more interceptions than touchdowns (7 interceptions to 5 touchdowns) and the Redskins going 0-3 in those games. Cousins said that his interceptions have come in bunches when he tries to do too much.
"Out of 20 quarters that I've played, there have been two where I've thrown seven interceptions," he explained. "The other 18 have been, I think, one interception or something like that. It's more in those two quarters what happened, and I just feel like I was trying to do too much and trying to get back in the game all in one play and forcing things. If I just stay within myself and stay patient and let the game come to me, the results tend to be pretty good."
Despite not playing in Week 1, Cousins still ranks 10th among NFL quarterbacks with 1,571 passing yards to go with his 10 touchdowns and eight interceptions for a rating of 88.3.
Gruden said he can't put his finger on the reason behind his quarterback's struggles. He was able to laugh about it, but said it's important that his quarterback cleans up the turnovers going forward.
"I don't know. If I knew, I wouldn't call those pass plays," Gruden joked. "They've come in bunches. He threw, I think, three or four against the Giants, all in the fourth, and he threw three here against Arizona, all in the fourth. Fourth quarters haven't been very good us. Those are the most important time for us to make plays and get the win."
Bumpy Road Thus Far for Gruden
Gruden came into the year expecting to be competitive, despite being an NFL head coach for the first time. Now that the team is 1-5 he is feeling some pressure from the outside community. He said it's something that comes with the territory of being a head coach.
"When you're 1-5, the first target is the head coach," Gruden explained. "That's something that you have to expect when you get hired, and that's something that you have to deal with. I'm going to continue doing what I'm doing."
The Titans interviewed Gruden during the offseason before he was hired by the Redskins just days later. Gruden said Tennessee was still early in the interview process, while Washington offered him the job on the spot.
"I had a good visit," he said. "I was very interested in the job, but Washington called me I guess the night after the interview, had me fly up here and they offered me the job right away. I really like Nashville, and it was fun."
Cousins discussed that he and his teammates have all been pleased with what Gruden has done with the team thus far, now it's about turning the hard work into wins.
"I think we've all enjoyed playing for Jay (Gruden)," Cousins said. "We feel like he has a great understanding of football and of our offense. I think he's called good plays. He's done a good job preparing us for games, and it's just a matter of us as players going out and executing and doing what we're coached to do."
The Desean Jackson Effect
The Redskins added Pro Bowl wide receiver Desean Jackson to give RGIII an added weapon on the outside, particularly in the vertical passing game. Even though it's been Cousins under center in Washington, the Redskins' backup has still had no problem finding Jackson.
Washington leads the league with eight completions of 40 yards or more. Jackson has accounted for five of those completions (most in NFL) and now has 40 such receptions in his career. On the year, Jackson has 23 receptions for 479 yards and three touchdowns. The seventh-year wideout is third in the league with 20.8 yards per reception with a long of 81 yards. Jackson spent his first six NFL seasons with the Philadelphia Eagles and has a reception of at least 60 yards in each of those seasons.
"He's a special player, makes my job much easier as a quarterback," said Cousins. "One of the things I've had to learn while playing, which has been tough, is just how talented he [Jackson] is, how much he can go and get the ball. Even when he's covered, he can still be open because of the way he separates."
Despite Washington's success through the air, Gruden says the Redskins need to find more balance in the running game. Washington ranks 8th in the NFL in passing attempts per game with 38. Alternatively, the Redskins rank 28th in rushing attempts per game with 24.
"Very, very good wide receiving core, but really when we're asking a young quarterback to throw the ball 35, 40 times a game, we're asking for a recipe for disaster, and we have to do a much better job in the running game," Gruden said.
Third-year running back Alfred Morris leads the Redskins with 386 rushing yards and three touchdowns on the season, but has just 70 yards in the past two games combined. Expect him to be a focal point on Sunday against the Titans.