**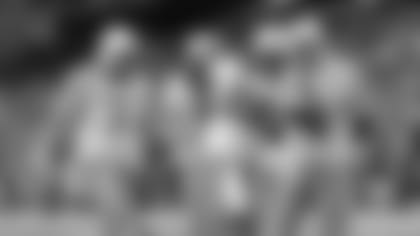 Running back Chris Johnson returns to the stadium where he became the sixth player in NFL history to reach 2,000 yards rushing.
SEATTLE -** The last time Chris Johnson was in a game in Seattle, he ran his way into the record books.
The last time Pete Carroll was in a game in Seattle, he had a humbling defeat - one that accelerated the end of his dynasty at Southern California.
Johnson returns with the Titans on Saturday night in the preseason opener against Carroll's Seahawks at Qwest Field, site of Tennessee's last game on Jan. 3. Johnson that day became the sixth player in NFL history to reach 2,000 yards rushing. He also broke Marshall Faulk's 1999 record of 2,429 yards from scrimmage.
Johnson turned his romp through Seattle into a pay raise. The All-Pro stayed away from Tennessee's offseason workouts before the Titans made him happy by reshuffling some money due to him in 2012 to add to his $550,000 salary this season.
"It's going to be interesting to see how they come out there ready to play,'' he said, "being that I rushed for the yards on them, or whatever.''
Johnson will be in for 10 plays at most, if Titans coach Jeff Fisher sticks to his long history of preseason openers. That means more time for backups Javon Ringer, former Oregon runner LeGarrette Blount and Stafon Johnson.
And Seattle has far more going on this summer than vengeance against Johnson.
Carroll is coaching in Seattle for the first time since his Trojans were upset by Washington in last September's Pac-10 opener at Husky Stadium. The Huskies' first win over USC since 2001 contributed to a four-loss season for USC that helped make a return to the NFL irresistible to Carroll.
Saturday's tuneup is his first pro game since Jan. 2, 2000, when he was leading New England. The second meeting ever in the preseason between the Seahawks and the Oilers-Titans franchise is also Seattle's first glimpse of Carroll's impact on a team that was 9-23 the last two seasons.
"I can't wait,'' he said.
Neither can the Seahawks' roster. Half of it is new since that '09 season finale against Tennessee.
Since arriving in January, Carroll has been acquiring players and then cutting them soon after. That's what happened to LenDale White. Carroll traded with the Titans during April's draft to get the guy who lost his job last year to Johnson. Carroll then dumped his former record-setting rusher at USC a month later because he wasn't happy with his attitude. White recently signed with Denver.
"It'd really be more interesting,'' Johnson said of his return to Seattle, "(if) I thought LenDale was going to be there.''
Carroll is likely to take some other intrigue away by continuing to rest most of his starters.
Quarterback Matt Hasselbeck has spent much of camp watching backups Charlie Whitehurst and J.P. Losman run Seattle's offense.
"It almost reminds me back of my first three years where I wasn't getting a lot of snaps and I was just sort of watching practice,'' said the 34-year-old Hasselbeck, who spent 1998-2000 backing up Brett Favre in Green Bay. "You almost get spoiled getting all the reps, and it's not much fun to go back to that.
"But ... it's part of how we're doing things. It's probably the smarter way to go.''
Hasselbeck has been injured for most of Seattle's last two dismal seasons. Preserving him has been one of Carroll's main summer goals.
"One of the reasons that you can limit Matt's snaps is because he's so gifted at the game,'' Carroll said. "He just understands it. He gets it.''
Whitehurst is back in his comfort zone: preseason football. The fifth-year veteran and former third-stringer with the Chargers has yet to throw a pass in a regular-season game. He's likely to throw many of them against the Titans.
Seattle traded for him and gave him an $8 million contract to have him take over for Hasselbeck after the three-time Pro Bowl passer's contract ends this season. But Whitehurst is getting pushed by Losman for the No. 2 job.
He and Losman will be throwing a lot to Mike Williams and Golden Tate. Williams, a former top-10 pick of the Lions and a former star for Carroll at USC, is playing his first game since dropping out of the league for two years after the Titans released him in 2007.
Tate has been the most dynamic of Seattle's receivers. The rookie second-round draft choice was born and raised in Hendersonville, Tenn. He starred at Pope John Paul II High School, then Notre Dame.
Carroll calls Tate "probably the most exciting guy coming along ... We're going to play him a lot on Saturday night and give him a lot of opportunities.''