**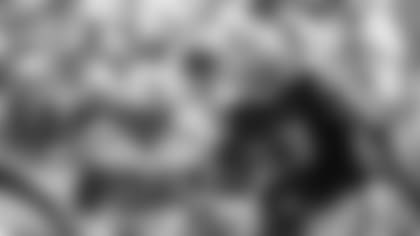 Chris Johnson ranked third in the NFL with 1,325 rushing yards and 11 touchdowns, but was not selected for his third Pro Bowl.
NASHVILLE, Tenn. --** Titans third-year running back Chris Johnson, who was selected to the Pro Bowl in each of his first two seasons, said he was happy for teammates Marc Mariani and Jason Babin, but was personally "surprised" that he was not tabbed for a third consecutive trip to the NFL's annual all-star game.
Johnson ranks third in the NFL with 1,325 rushing yards this season behind Houston's Arian Foster (1,436) and Kansas City's Jamaal Charles (1,380) and ahead of Jacksonville's Maurice Jones-Drew (1,324). Johnson has 11 rushing touchdowns, Foster has 14, Charles has four but scored two receiving touchdowns against Tennessee last week and Jones-Drew has five rushing touchdowns. Voters tabbed Jones-Drew to start, and Foster and Charles as reserves.
"I'm very surprised being the third leading rusher in the league and just knowing how teams play us," Johnson said. "I think everybody considers this season a failure for me, but if any other back in the league runs for 1,300-1,400 yards, they'd say he had a great year, so I guess it puts me as a higher standard than everybody else."
Johnson has eight 100-yard games this season — the most of anyone in the NFL — but will fall well shy of his attempt to become the first player in NFL history to have consecutive seasons of at least 2,000 yards.
Fisher said Johnson—and all Titans—are disappointed at the way the season has unfolded. The Titans led the AFC South with a 5-2 record through seven games but have lost seven of their past eight games and are guaranteed their first sub-.500 season since 2005.
"I think if you go back and look at those backs who had 2,000-yard seasons and look at what happened the year after, the high expectations are always there the year after, but I think CJ is probably ahead of any of those backs who had 2,000 yards," Fisher said. "The expectations were there, it just didn't happen.  He's still a terrific back and a big part of our offense."
Of the six running backs who have had a 2,000-yard-plus rushing season, Johnson ranks second in yards the following season (behind Barry Sanders' 1,491 in 1998) and second in touchdowns the following season (behind Eric Dickerson's 12 in 1985).
"His numbers are not as good as last year, but he's still that caliber of a player," Titans offensive lineman David Stewart said.