**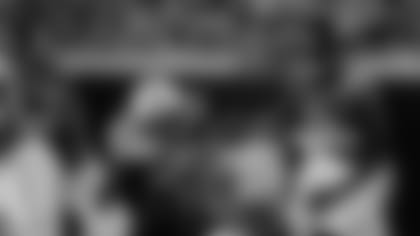 The Titans will look to pull even with the Jaguars in the AFC South with a win Sunday.
NASHVILLE, Tenn. -** The
Jacksonville Jaguars
hit the road trying to hold on to their share of the AFC South lead. For the Tennessee Titans, it's time to make a stand at home.
The Jaguars (6-5), tied with Indianapolis atop the South, play the first of their final three divisional games - all away from home - Sunday at Tennessee. The Titans (5-6) are a game back and tied with Houston despite a four-game skid. Best of all, the Titans open a three-game home stretch with the Colts and Texans following Jacksonville.
It's the kind of backloaded schedule the NFL wanted to keep games meaningful, and that mission couldn't be more successful in the AFC South.
"We're all sitting there within a game of each other and all have an opportunity,'' Jaguars coach Jack Del Rio said. "For us, what we're focusing on is going up and trying to find a way to scratch out a win in Tennessee. When we're done with that opportunity, we'll get ready for the next one.''
Titans coach Jeff Fisher said they realized when the schedule came out that the season would be decided over the final weeks, especially for Tennessee with five of its final six games in the division.
"Now no one anticipated the injury situation up in Indy, which I think has contributed to their losses, but (the division's) there for everybody,'' Fisher said.
It's even there for the Titans, who've had a revolving door at quarterback for a month now and plenty of drama: the waiver wire pickup of Randy Moss; Vince Young's season-ending injury and his blowing off of Fisher; an offensive coordinator undergoing chemotherapy for cancer; and most recently cornerback Cortland Finnegan's beat down by Texans receiver Andre Johnson.
What the Titans need most is to match all the off-field excitement with their play, especially after last week's 20-0 loss in Houston. This divisional schedule should help.
"It's an ultimate spark because what we're trying to do is make the playoffs,'' Titans fullback Ahmard Hall said. "You win your division, you make the playoffs. We get these wins, we control our own destiny.''
Veteran quarterback Kerry Collins will be a game-time decision for the Titans, which would be a big boost for an offense that stalled out with its worst performance of the season last week in rookie Rusty Smith's first NFL start. Chris Johnson was limited to just 5 yards on seven carries.
"There's no way he doesn't make this one,'' Del Rio said of Collins, who needs only three touchdown passes to reach 200 for his career.
The Titans likely won't know until Sunday if coordinator Mike Heimerdinger is able to attend after starting chemotherapy Wednesday. If he does, he is expected to consult with quarterbacks coach Dowell Loggains on the play-calling from the coaching box.
Collins said he hopes the Titans respond if he is able to start. He finished off most of the Titans' 30-3 win in Jacksonville on Oct. 18, and he also started the last game they won, against Philadelphia on Oct. 24.
"We still have an opportunity to accomplish our goals for this year,'' Collins said. "Having said that, we know we've put ourselves in a tough spot and I think everybody is going to take the approach that we need to get better and we need to play better this week if we want to win.''
The last time Jacksonville visited Tennessee in 2009, the Titans came in 0-6 and beat the Jaguars 30-13 - the first of five straight wins for Tennessee.
Now the Jaguars come to town having won three of four and looking to bounce back after blowing an 11-point lead in last week's 24-20 loss at the New York Giants. They're also thinking playoffs, and David Garrard, knocked out of the first game between these teams, said some redemption would be nice.
"It is a big game period,'' Garrard said. "It is in the division. That is really all you have to say. You don't really have to have any redemption or revenge or anything like that. It is a division game, so it is already big.''
Maurice Jones-Drew has run for 100 yards or more in each of the past four games, and the Jaguars will get back left tackle Eugene Monroe from a concussion that kept him out of last week's game.
"Eugene is a big part of our offense,'' Jones-Drew said. "Coming back, I think he's hungry and he can't wait to get out there. We've missed him.''
That will help against a Tennessee defensive line tied for second in the NFL with 32 sacks but is currently banged up and limping.
Titans tackle Jason Jones may be back after an injured right knee caused him to miss a game, but tackle Sen'Derrick Marks is wearing a walking boot on his sprained right ankle, and tackle Tony Brown's balky right knee limited him to just a series in Houston. End Dave Ball also missed last week with a concussion.
Fisher doesn't want his Titans playing too tight or desperate, even if a fifth straight loss seriously dents their playoff hopes.
"I want the team playing up to its capabilities and its capabilities playing with an attitude, aggressiveness and a sense of confidence,'' Fisher said. "And that's the way we've been playing, we just haven't won. You don't make it life or death.''