NASHVILLE – Right now, they can't be together as one.
Because of the coronavirus pandemic, NFL players currently aren't permitted to work out at club facilities, and that includes the Titans in Nashville.
But that doesn't mean they can't gather in small groups, which is exactly what some of the Titans are doing to prepare for the 2020 season.
By now, you've probably heard about quarterback Ryan Tannehill and tight end Jonnu Smith throwing passes and working out together while in South Florida.
Several other Titans are working out together as well, on offense, and on defense.
Quarterback Logan Woodside, who will compete for the No.2 spot behind Tannehill, is doing his part to help guys in Nashville get ready.
Woodside has been throwing regularly with receiver Corey Davis and tight end Anthony Firkser, and receiver A.J. Brown said on Wednesday he's been working with Woodside as well. Veteran receiver Adam Humphries has joined the mix some days as well, along with some of the undrafted rookie free agents who've made their way to town.
"I think we are going out there with the attitude to get better, and we are building that chemistry," Woodside said. "We're just getting ready for whenever the time is, whenever it is safe to go back. We want to get that timing down."
Woodside said the players have worked at different fields, and facilities, around town.
"We're just being aware of the guidelines throughout Nashville and what the CDC (Centers for Disease Control and Prevention) is recommending, so we're taking that very seriously while getting some work in," Woodside said.
"We are trying to be creative and trying to find safe places to throw and improve. It has been a challenge a little bit, but it is something we are doing, and we are improving in that area."
Players on the defensive side of the ball are doing the same.
Jeffery Simmons said on Wednesday he's worked some with fellow defensive lineman DaQuan Jones.
Safety Kevin Byard has been working with several of the team's defensive backs, including Tye Smith and Kareem Orr. Linebacker Josh Smith has also been working with the group, and defensive back Kenneth Durden was expected to join the players this week as well.
Strength and conditioning coach Jason Spray, who trained Byard while at MTSU, has worked with the players to get them ready.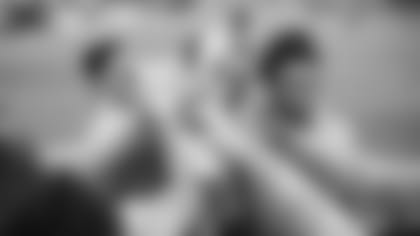 The on-field work has been done in addition to the work the players are doing in the team's virtual offseason program.
Right now, it's unclear when players will be allowed to return to Saint Thomas Sports Park.
"I am pretty sure we're going to have more guys in when they come back to town," Byard said. "It is fun to have the guys with me working out, building good camaraderie. I always say when you work out with guys and you sweat and you go through those things in the offseason, it builds onto the football field. It is just fun."