(This story was originally published on Titans Online in September 2019.)
NASHVILLE – The game of football provided Eddie George and Ray Lewis so many reasons to dislike one another.
Their teams were bitter rivals, and their individual battles were fierce. They crushed one another's dreams, and each other's bodies. And for years, they haunted one another in their sleep.
But the former Tennessee Titans running back and the Hall of Fame linebacker from the Baltimore Ravens held each other tight in a long embrace when they were reunited during an event at Arrington Vineyards back in September.
If they looked like great friends, well, it's because they are.
"I love you, man," Lewis told George. "You're my guy."
"I love you, too," replied George, before turning to onlookers, and then back to Lewis. "I hate to admit it, but he's phenomenal. This guy is phenomenal. There's nothing that I won't do for him."
Lewis and George. George and Lewis. They're an unlikely pair, and they know it.
The two also have something else in common that's made them even closer – they miss their friend Steve McNair, whose death in 2009 took their friendship to an entirely different level.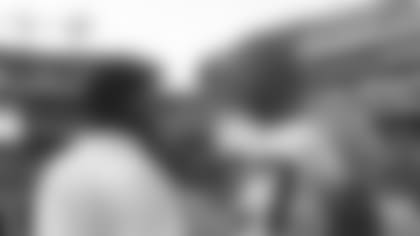 George and Lewis first became acquaintances back in 1995, during an event in Los Angeles. They hit it off. A few years later, they were at a Pro Bowl together for the first time, and they began hanging out. George was impressed that Lewis waited patiently for over two hours at an event while he signed autographs. Few recognized Lewis, in his second NFL season at the time. But Lewis sat down in a chair and watched the popular Heisman Trophy winner mingle with his fans, at the time saying he had nowhere else to go after they'd arrived together.
Not long after that, the two began squaring off in epic battles on the football field. Those would continue for years, and they oftentimes got ugly between the teams. Lewis called his rivalry with George the "best running back-linebacker battle in NFL history," but many years later Lewis said it was never as bitter as it might've seemed between the two. There was never hate, or anything close to it.
In fact, both agreed the head-to-head competition made them better.
And through it all, they were able to build on their relationship.
"It kind of reminds me of Ali and Frazier," Lewis said of the former boxing greats, and his friendship with George. "We battled. And when we'd go out there, we would give a look to each other and be like, "Do you, and I'm going to do me."
George said he read Psalm 27 before one critical meeting vs. Lewis, and the Ravens. The Bible verse starts off with these words: "The Lord is my light and my salvation — whom shall I fear? The Lord is the stronghold of my life— of whom shall I be afraid?"
"I was very aware of Ray," George said of Lewis. "He's the fiercest competitor that I ever played against, and there was always so much respect. He played with a relentless spirit, and that's how you have to match it. The moment you show fear, it's over."
A 13-time Pro Bowl selection, Lewis was a two-time Defensive Player of the Year and a Super Bowl MVP in his career, which spanned from 1996-2012. Lewis started 227 games in his career and was credited with eight 100-tackle seasons.
George, who finished with 10,009 rushing yards from 1996-2003 with the Titans, squared off against Lewis and the Ravens in 16 games. George had two 100-yard games, and 973 rushing yards in his career against the Ravens, counting two postseason contests.
One of the biggest plays in Lewis' career came when he collided with George on a ball thrown his way during the 2000 season's playoffs. Lewis ended up intercepting the pass, and he returned it for a touchdown. The score sealed Baltimore's 24-10 AFC divisional playoff win over the Titans. Baltimore went on to win the Super Bowl that year.
Another memorable encounter came during the 2003 season's playoffs, when George continued to play after dislocating his shoulder. Wearing a restrictive harness, George gutted out an 88-yard rushing performance against the Ravens, and he ran through Lewis on the sideline on one memorable play. The two jawed at one another after the play. The Titans won that contest, and George believes that game helped cement his legacy.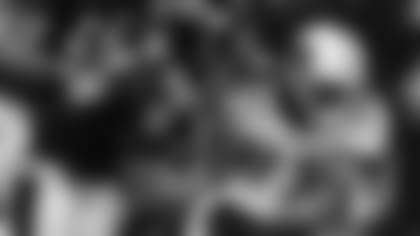 To this day, he's still haunted by the playoff loss to the Ravens in 2000. He's also bothered by knowing his buddy can say he knocked him out cold during a game in 1997.
On Saturday night, the Titans and Ravens will meet again the AFC Divisional playoffs.
"He was my fiercest rival, and he caused me a lot of fits, a lot of heartache," George said of Lewis. "One of the toughest losses that I ever had in my career was against Baltimore in 2000. But there's a level of respect that goes beyond the field. I respect him as a man and what he represents."
At George's September event, titled "Cigars, Cocktails, and Conversation," the former NFL stars shared stories about their NFL careers during a week when George's No. 27 jersey will be retired on Sunday at Nissan Stadium. On the same day, the Titans will also honor McNair, the late Titans quarterback who later became teammates with Lewis in Baltimore. McNair's No.9 jersey will also be retired.
George and Lewis agreed the bond they developed during their playing careers had already grown strong before McNair joined the Ravens in 2006. When McNair was tragically killed in 2009, they grew closer.
"Ali and Frazier, their relationship, they realized, yeah, we were great warriors," Lewis said. "But it was another thing to be a brother that somebody could lean on when times got hard, because things got hard when Mac9 passed, and we had to come together. This little rivalry we had, it's cute. But (Steve dying), that was real, and we needed one another, and Momma McNair needed us."
Lewis spoke at Steve McNair's funeral.
Since his death, Lewis said a week hasn't gone by when he hasn't called McNair's mother.
When discussing McNair while in Nashville in September, there was a point when it looked like Lewis was beginning to tear up.
"My payback, Rest In Peace Steve, is momma McNair needs a call," Lewis said. "If Steve knew we were this close, and he does because he's looking down on us, he would be happy. But it's his legacy I want to honor, by being there for his mom and his family. Not having him here is different. The day I got that call, life forever changed."
George and Lewis still have each other.
Lewis recently spoke at an event for George at Ohio State, and George recently went out of his way to spend time with Lewis at one of his functions as well. Lewis flew cross-country to Nashville from Los Angeles, where he'd been training for Dancing with the Stars, for George's event. A few months earlier, Lewis had promised to be there for George.
The two talk regularly, and build each other up after so many years trying to beat each other down.
Lewis said he thinks they'll grow old together, but then he stops to remember McNair's untimely death.
"We all have to go, but to lose Steve that early, it still bothers me," Lewis said. "But me and Eddie, we're here for one another. I don't think anyone knows how close we really are, and we have that bond. It's a brotherhood."
Like Lewis, George only wishes McNair could enjoy life with them.
"When Steve passed, Ray and I became tighter because of that," George said. "It created a true bond that can't be broken because we were all linked together. With Ray, when you think about it, it is phenomenal how our friendship has grown like it has. I respect him as a man and what he represents. There really is nothing that I won't do for him."