NASHVILLE – Titans head coach Mike Vrabel held a press conference to kick off training camp on Tuesday.
It was the first live press conference at Saint Thomas Sports Park since the week leading up to the team's AFC Championship Game appearance at the end of the 2019 season.
Vrabel seemed happy to be back, and he's clearly excited about the start of the 2021 season.
"Excited to be here with the players," Vrabel said. "We had 30 guys in here on Saturday, and the rest, 60, were in today. (We) ran, and we're ready to move forward, to get going tomorrow morning. … We'll have a big meeting tonight and get ready to roll."
Here's a look at some of the biggest topics:
-Vrabel, via an audio message from Associated Press writer Teresa Walker, who is covering the Olympics in Toyko, was asked about the team's vaccination status. Vrabel did not give a percentage of players vaccinated, but he said he's pleased with the progress, while adding all of the coaching staff is fully vaccinated. "Obviously, this is something that is very sensitive, and it is also very important to everybody in the league," Vrabel said. "It is important to the fans, the players, the NFL, the NFL Players Association. It is important for all of us, to make sure that we are well aware of what the protocols are for vaccinated and unvaccinated players, and that we follow those without reservation. … I am comfortable with where we are at." Vrabel said the team continues to add players to the vaccination list, "and guys are continuing to do research to educate themselves, to make a personal decision that we've said it was all along," he added. "It's a personal decision and hopefully one that they can come to that will help them, and help this team. The percentages, I am very comfortable with where they are, and they've continued to go up and I would expect them to go up."
-The Titans added outside linebacker John Simon to the roster over the weekend, and he's a guy Vrabel is very familiar with. An eight-year veteran who has spent time with the Patriots, Colts, Texans and Ravens in his NFL career, Simon has played in 97 career games, with 52 starts. He's recorded 277 career tackles, and 21 career sacks, 25 tackles for a loss, and two forced fumbles, along with 11 passes defensed and two interceptions. "We expect out of John, what we expect out of everybody else – to be available, to go out there and work, and learn," Vrabel said. "I coached John in college, and I had an opportunity to coach him in Houston (while with the Texans). We made a decision to bring him in here, and I'm sure he'll compete at outside linebacker and special teams just like everybody in that group."
-Vrabel singled out several players for making "significant progress" this offseason, including tight end Anthony Firkser, defensive lineman Teair Tart, cornerback Kristian Fulton. "I see them now, and they look different," Vrabel said. "They don't look like the same guys we coached last year."
-Vrabel described the team's conditioning test as "excellent."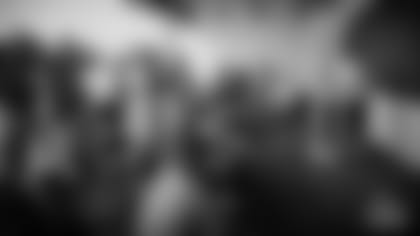 -Behind starter Ryan Tannehill, quarterbacks Logan Woodside and DeShone Kizer will compete for the No.2 job this season. And Vrabel said they'll have an opportunity to play plenty in the preseason. "I would imagine that they're going to play a lot," Vrabel said. "And they're gong to play a lot with different people. That is the thing when you are evaluating quarterbacks, is that they both have an opportunity to play with some players that you anticipate being on your roster, and then sometimes you evaluate them with guys that may not be. How do they motivate those guys? How do the inspire those guys? How do they function when they are not playing with the first string receiver or first string offensive line?"
-Vrabel said he gave veteran receiver Julio Jones a message when he signed with the team back in June. "One thing I told him is, I'm going to hold the best players the most accountable, and hopefully in turn they can do that to the rest of the team," Vrabel said. "I've always said that is something that we believe in. That's how I was coached, and that's what I know. I just wanted to make sure that (Julio) understood that, which he did. It's something he was very comfortable with. … Everything that he has done since he has been a member of our team has been positive."
-Vrabel said he's confident about the team's defense moving forward, knowing, "We have to be better. We have to be better on third down. We have to go and force the quarterback and make him be uncomfortable, and we have to go cover guys at the sticks, and all of those things we teach. That's where the problems occurred. … That's something we hit hard in the offseason, and hopefully that will show up."
-Tucker McCann and Blake Haubeil are set to battle it out at the kicking position, and Vrabel said he's looking forward to seeing how they perform. "We'll work with those guys and see where it goes," he said. "We're comfortable and positive that those guys are going to go out and compete. (We want to) give Tucker an opportunity. … He was really impressive as we worked our way through training camp (last year), and then he got injured. … We'll let those guys compete, and like any other position, if we have to bring guys in, we can do that." Asked of last year's kicker, Stephen Gostkowski remains an option, Vrabel replied: "Until he retires, I would imagine that anybody would be a potential (option), but I don't know."
-Outside linebacker Bud Dupree was placed on the team's Physically Unable to Perform list at the start of camp, while defensive back Caleb Farley was placed on the Non-Football Injury list. Vrabel said they'll stay involved as they work their way back. "They work out, they go to meetings, they go to rehab," Vrabel said, "and they just can't be involved in the practice or the walk-through. They are working hard to get better. … Everybody here has a plan, and for most everybody that plan is the same, and for others it is a little bit different. But at the end of the day everybody is working hard to get better and help the team." Vrabel also added players like tackle Taylor Lewan, who didn't practice all offseason but is not listed with an injury designation to start camp, could be limited some days in camp as he continues to work his way back.