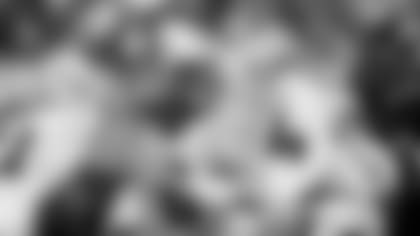 Matt Hasselbeck and the Titans will have to learn how to win without top WR Kenny Britt.
NASHVILLE, Tenn. — Matt Hasselbeck led Tennessee's offense through the chaos.
Down by four in the fourth quarter and without injured receiver Kenny Britt, Hasselbeck guided his teammates through confusion in the huddle and past Denver's defense for a game-winning, 95-yard drive Sunday.
The Titans (2-1) will have to find ways to win without Britt the rest of the season. Britt's third year in the NFL ended Monday with the confirmed diagnosis that he tore his ACL and MCL in Sunday's 17-14 win against the Broncos (1-2).
"It's going to be a shared experience for everybody to see what we can do to help this team win," said Hasselbeck, adding that everyone must strive to improve and each position must look for ways to contribute.
Hasselbeck, said the confusion Sunday, stemmed from the Titans attempting to line up Britt in different spots so the Broncos' defense would have more difficulty keying on him. That changed after a short completion to Britt in the second quarter. He hurt his knee with a spin move and fumbled the ball as the severe pain struck.
"Basically you need to know who you are — what position you're playing when you step in the huddle," Hasselbeck said. "With Kenny out, we had a stretch where we were not sure who we were. Because people were keying on Kenny we were trying to move him around. With Kenny out, it became very confusing. There was one play where we were a total mess. It was a third-and-six or seven and we just ran the wrong route. It won't happen again."
Despite Britt emerging as one of Hasselbeck's favorite targets since coming to Tennessee, the 13-year veteran QB threw his first five completions Sunday to five different players. Eleven Titans recorded at least one reception against Denver.
Titans coach Mike Munchak credited the way that Hasselbeck found the open receiver. That included a 58-yard catch and run to Craig Stevens, whose previous career long reception was 28 yards, and a short touchdown toss to tight end Daniel Graham, who scored on his first catch as a Titan.
"I think the fact, with Matt, the way he spreads the ball around, he's not looking at one receiver the whole game," Munchak said. "That's apparent by the different guys catching balls, and the biggest catch of the day was by a tight end, who doesn't get the ball thrown to him very often. We'll take what (defenses) give us."
Hasselbeck said the injury is "horrible news for Kenny. I think we all feel really bad for him. He's worked really hard and had a tremendous start for the season, so it's a huge loss."
Munchak said the team will evaluate available receivers to add depth to the Titans' four receivers, but gaining production from the added player may take time. Hasselbeck said the team must unite to share the load and fill the void.
"It's not going to be business as usual," Hasselbeck said. "It's not going to be come in on a Tuesday and kind of go through the motions. You're going to have to work as hard as you've ever worked and that might not even be good enough."