**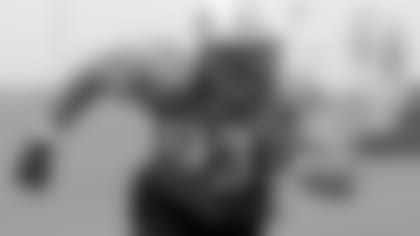 Defensive end Kyle Vanden Bosch is motivated to return to Pro Bowl form after missing six games due to injury last season. 
NASHVILLE, Tenn. --** The grunts, snorts and yells start when the ball is set for play, all coming from Tennessee defensive end Kyle Vanden Bosch.
With the snap, Vanden Bosch plunges at the left tackle, clawing and pushing to find the quarterback or whoever has the ball. That intensity is why teammates call him a Tasmanian devil, and opponents definitely can hear Vanden Bosch coming at them.
"I think it's his way of expending the energy that it takes to go as fast as he does and as hard as he does," Titans left tackle Michael Roos said.
"I'm sure it can be intimidating to some people, maybe some rookies coming in to realize this guy's going that fast and making these noises. It makes him who he is," said Roos, who only has to contend with Vanden Bosch during training camp.
Vanden Bosch is more motivated than ever.
The two-time Pro Bowler is coming off an injury-decimated season that kept him out of six games in 2008. There's pressure to step up on a defensive line that lost Albert Haynesworth to free agency, and the eight-year veteran is going into the final year of his contract.
Not that anyone in Tennessee can see a difference in Vanden Bosch, the 6-foot-4, 278-pound man all the more intimidating with his shaved head -- especially when wearing red-tinted contacts to cut the glare when playing outside.
This is the teammate LenDale White recently joked that he'd like to slip some of the sleeping medicine Ambien to before practice to calm Vanden Bosch down. That's because Vanden Bosch is the one who keeps swiping at running backs to strip the ball away.
Tight end Alge Crumpler loves working against Vanden Bosch because he practices at game tempo, which is tough for coaches to simulate.
"As fast as he's going in practice, he's even faster in games, and that amazes me," Crumpler said. "My body isn't cut out for that. But he trains that way. He works that way, and the things that he says he backs up with his leadership and his talking. He makes that side of the ball better and makes us better when we go up against him."
Defensive line coach Jim Washburn said Vanden Bosch has not changed one bit since his arrival in Tennessee, not in his motivation nor his desire to prove himself. Washburn said that drive is what makes Vanden Bosch such a ferocious pass rusher because he never eases up.
"If they let up for a minute, they're in trouble. There's guys who can block him. They just don't have the will to stay with him the whole time," Washburn said.
That drive helped Vanden Bosch go from hauling bricks and cement for his father's construction company in Iowa from the time he was 12 to Nebraska to becoming a second-round draft pick by Arizona in 2001. His career seemed over after he tore each anterior cruciate ligament in his first four seasons. Tennessee was one of the few teams calling when he hit free agency in 2005.
He has rewarded the Titans with a team-high 35½ sacks since then and led the defensive line in tackles in three of his four seasons even while playing with Haynesworth.
Groin injuries limited Vanden Bosch in 2008, yet he still finished fourth on the team with 18 quarterback pressures and had 4½ sacks in 10 games. He sat out the final three games of the regular season while recovering from surgery to repair a related groin injury. He started the playoff loss to Baltimore and managed just one tackle.
Washburn sees no lingering effects from those injuries, and he said he told Vanden Bosch last week he thinks the end is cornering the edge as good as his first year in Tennessee.
"He's got great endurance, great will, strongest I've ever seen in any human," Washburn said. "I don't think there's anybody ever played the game with any more dedication and desire than he's had."