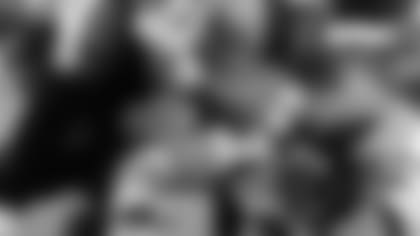 Running back Chris Johnson has been the primary focus of opposing defenses all season.
NASHVILLE, Tenn. - **Tennessee running back Chris Johnson's No. 28 might as well be a glowing red bull's eye - at least to defenses.

No NFL defense wants to be gashed by the last player to run for 2,000 yards in a season, and beating Tennessee starts - and stops - with slowing down the speedy Johnson.

It's working so far this season too. The Titans (2-2) have won each of the two games where Johnson ran for more than 100 yards, and both losses came when defenses held him under that mark.

The Dallas Cowboys (1-2) get their turn next on Sunday, and linebacker Keith Brooking says Johnson is the

man they must stop for a simple reason: The running back can score anytime he touches the ball.

"We talk all the time about everybody being where they're supposed to be,'' Brooking said.

"If you got one guy who is not doing what they're supposed to do, a guy like that will absolutely crease you and he's out the gate. When he gets out in the open ... we've got some good athletes in our defense, but there's nobody that's going to catch him.''

Johnson likely made himself an even bigger target for defenses when he proclaimed his goals for 2010 included not only topping Eric Dickerson's NFL single season rushing mark of 2,105 yards but 2,500, a number more easily reached by quarterbacks.

Just like the last half of 2009 as Johnson ran for 2,006 yards, defenses through the first four games stacked eight and nine players near the line of scrimmage to contain him. Denver linebacker Robert Ayers said the Broncos keyed on Johnson in their 26-20 win last week with outside linebackers blitzing to keep him contained.

They held him to 53 yards on 19 carries.

"We knew if we could slow him down that it would be good things to happen to us,'' Ayers said.

Fullback Ahmard Hall said that's what the Titans will keep seeing from defenses year in and year out as long as they have Johnson.

"He knows everybody's keying on him,'' Hall said. "He has a big target on his back being the best back in the league. It's just going to take patience, and eventually we're going to get it done.''

Titans coach Jeff Fisher said defenses aren't necessarily scheming up any new approaches to stop Johnson.

"We're getting a little more edges. We played two odd fronts, 3-4 fronts. You know with the big linebackers up there it's hard to get the ball bounced outside. It will come, I have confidence in our offensive players and our backs and our staff that we'll get it turned around. We still ran for 122 yards,'' Fisher said.

Brooking noticed six or seven Broncos around the ball at all times last week, and pride is involved.

"Us 11 guys, we're not going to let this guy get out of the gate and off to the races, to beat us on one play.''

Dallas coach Wade Phillips also is reminding his Cowboys about making sure to take the right angle if Johnson breaks loose.

"He can change direction really well too for a guy that runs that's fast,'' Phillips said. "Normally really fast guys run like a track guy where it's one foot in front of the other rather than being able to move from side to side. He runs with his feet a little wider than a normal real fast guy and that enables him to cut faster.''

The* Associated Press' *2009 NFL Offensive Player of the Year dashed to a 76-yard touchdown in Tennessee's opening win over Oakland, but the Raiders held him to 66 yards on his other 26 carries. A holding penalty erased an 85-yard TD in a 19-11 loss to the Steelers as they limited Johnson to 34 yards on the 16 runs that counted.

He broke loose for 42 yards in a road win in Week 3. But again, the Giants bottled him up with 83 yards on his 31 other rushing attempts.

The Titans aren't backing down either. This is the franchise that runs more per game on average than anyone else in the NFL since 2006.

All that attention is taking a toll. Tennessee now ranks ninth in the NFL averaging 133.3 yards per game after being second in the league last season, and Johnson, the NFL rushing leader over the past two years, now ranks sixth with 354 yards.

Johnson is starting to sound a bit frustrated too, especially after the loss to the Broncos when his longest run was 8 yards, a distance that seems normal for him. He talked of looking for daylight with so many defenders boxing him in.

"We've got to improve. We've got to improve everywhere,'' Johnson said. "I feel like there's things in the running game we can get better. ... This team's a running team, so they know we're going to run the ball.''
The Tennessean is tracking Johnson's pace toward that 2,500 goal on its website. Johnson insists he's not counting himself.

"I just go in the game trying to get a victory and hopefully when I look up (I'll be) close to that goal,'' Johnson said.