ORLANDO, Fla. – When Ken Whisenhunt replaced Mike Munchak as Titans head coach back in 2014, he had some tough decisions to make as he built his coaching staff.
Among them: Who should stay, and who should go?
It's a decision every new coach has to make with the prior year's coaching staff. Current Titans coach Mike Vrabel made the same decisions when he took over last January.
Whisenhunt ultimately decided to keep assistant coach Arthur Smith, and he moved him into a position where he could focus on helping the tight ends more. Vrabel also kept Smith when he replaced Mike Mularkey, and a year later he decided to promote him to offensive coordinator when he had an opening after the 2018 season.
Here at the Pro Bowl, Whisenhunt gave the move a thumbs-up. So did several other players who either worked with Smith in the past, or will continue to work with him moving forward in Tennessee.
"I've always held him in high regard," Whisenhunt, now offensive coordinator with the Los Angeles Chargers, said of Smith. "I thought he was a good young coach then, and to see how he has developed, I am greatly excited for him. It's a tribute to how hard he's worked.
"I think he'll do a great job," Whisenhunt continued. "One of the things that always impressed me about Arthur is his overall knowledge of the game. I thought even though the position he was in, he did a lot more. He had ideas on third down and other things – he really worked at it, and was always prepared. There's always going to be things he'll have to work through (as a first-year OC), because you can't simulate the game-day action, or having to make calls in situations. But the one thing I know is he'll be prepared. I am happy for him. Again, I think he'll do a great job."
During his time in Tennessee, Smith has worked under four different head coaches – a testament to his reputation and success. Smith began under Munchak, and in addition to Whisenhunt, Mularkey also promoted him when he took over.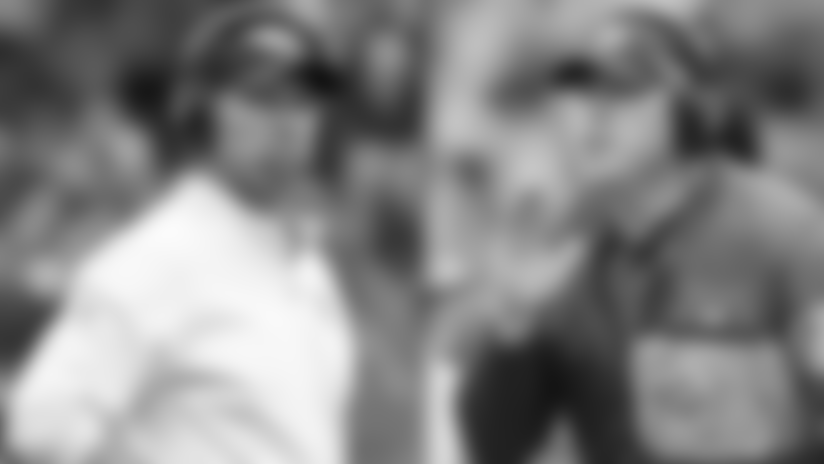 Smith replaced Matt LaFleur as offensive coordinator under Vrabel. LaFleur left to take over as head coach of the Green Bay Packers earlier this month.
"That's my dude," Raiders Pro Bowl tight end Jared Cook, a former Titan, said of Smith. "I knew Arthur when he first got into this league, and I know how hard he's worked. When I was there he worked with us as tight ends, and he worked with the o-line. And I know the work Arthur has put in. It's something that he loves, and he's worked hard at it. I am so happy for him."
Cook spent two seasons with Smith in Tennessee before leaving to join the Rams. His career has taken off, and he's coming off the best season of his career with the Raiders. Cook racked up 68 catches for 896 yards and six touchdowns in 2018.
"Arthur has always been able to get players to understand on a level that's easy for them," Cook said. "He's not like a forcible coach, he's not an angry coach, and he's not a loud coach. He is going to teach you how you need to be coached, which is pretty awesome."
Smith was promoted by Vrabel after wrapping up his eighth season on the Titans coaching staff, and his third full season in charge of tight ends after taking over the group during the 2015 season.
Smith served as assistant tight ends coach in Tennessee 2014 and the early part of 2015 before being promoted. He was an offensive line/tight end assistant in 2013, and an offensive assistant/quality control coach in 2012 after serving as a defensive assistant/quality control coach in 2011.
"Arthur knows the personnel so well, for the sole reason he has been in that building for so long," Lewan said. "He knows how it works, and he's going to use the best he's gotten from all the coordinators he's been around, and he's going to take the things he likes, and get rid of the things he didn't like.
"I think we have a huge opportunity to do some special things. I think he'll do awesome. He'll do the same way he did when he lost Delanie and lost Jonnu Smith last year and he had two guys step up that no one on the outside really heard of (MyCole Pruitt and Anthony Firkser) and no one thought could do anything, and they helped tight ends be one of the best position groups on the team (with Luke Stocker). They got better on a week to week basis. I think Arthur is a hell of a coach and I am really excited for him."
Added Kern, who has been around Smith eight seasons: "He's a really smart guy. He pays a lot of attention to detail, and I know him and Marcus have a great relationship. So I am excited for Marcus (Mariota) to be able to work with somebody he knows really well. I am really thrilled for him, and I can't think of a better guy to get the job."
Whisenhunt said he's pulling for Smith and Mariota.
The change at offensive coordinator gives Mariota his fifth play-caller heading into his fifth NFL season.
"Based on what I know, I think Arthur will do a great job with Marcus," Whisenhunt said. "Marcus is such a great player, and so open to everything, so having somebody he is familiar with and somebody he has great communication with, I think they'll be great together.
"I'm pulling for them – in every game but one next year. I am pulling for Marcus. I think he's a tremendous talent, and I love the way he plays the game. I wish him the best, and the same for Arthur."