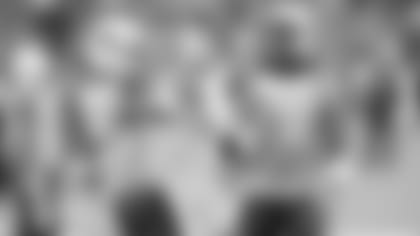 NASHVILLE, Tenn. – From Day One, Titans coach Mike Mularkey and general manager Jon Robinson have made it clear to former players they want them to feel welcome.
This weekend, the organization is welcoming many of its former players back to town.
More than 80 players are scheduled to attend the third annual Titans Homecoming event this weekend. The former players will meet at a gathering in Nashville on Friday night, and they'll attend a walkthrough practice on Saturday. A reception is planned for Saturday night.
The players will then be recognized at halftime of the team's game against the Baltimore Ravens on Sunday at Nissan Stadium.
Roughly 60 players returned for the homecoming event last year after 37 turned out the previous year.
Former Titans quarterback Vince Young, receiver Kevin Dyson, safety Blaine Bishop, linebacker Keith Bulluck, receiver Derrick Mason, tackle Brad Hopkins, tight end Frank Wycheck, cornerback Samari Rolle, receiver Nate Washington, safety Lance Schulters and running back LenDale White are among those scheduled to attend this weekend's festivities.
Mularkey has said he'd like to see a culture where former players build relationships with players currently on the roster.
"There's a lot of experience they can share with our current players that can help them football-wise, life-wise, post-football,'' Mularkey said. "There's a lot of things that could help players, and I want to take advantage of that."
A list of the former players scheduled to attend Homecoming Weekend:
C/G Eugene Amano (2004-12)
LB Patrick Bailey (2010-13)
TE Brandon Barden (2012-13)
DE Charles Bennett (2008)
S Blaine Bishop (1993-01)
WR Diondre Borel (2012-13)
LB Keith Bulluck (2000-09)
DT Jared Clauss (2004-06)
FB/TE Casey Cramer (2006-08)
LB Rennie Curran (2010-11)
TE Dorin Dickerson (2015)
RB Herb Donaldson (2010-12)
DB Anthony Dorsett (1996-99)
G Ryan Durand (2010, 2012)
WR Dominique Edison (2009)
LB Greg Favors (1999-2001)
RB Troy Fleming (2004-05)
RB Jamie Harper (2011-12)
S Antoine Harris (2005-06)
G/C Leroy Harris (2007-12)
G Justin Hartwig (2002-05)
WR Lavelle Hawkins (2008-12)
CB Reynaldo Hill (2005-08)
OL Brad Hopkins (1993-2005)
S Robert Johnson (2010-12)
FB Quinn Johnson (2011-13)
LB Stanford Keglar (2008-09)
OL Troy Kropog (2009-10, 2012)
OT Daniel Loper (2005-08)
WR Derrick Mason (1997-04)
LB Gerald McRath (2009-12)
FB Collin Mooney (2012-13)
CB Ryan Mouton (2009-2012)
S Donnie Nickey (2003-2010)
QB Neil O'Donnell (1999-2003)
LB Rob Reynolds (2004-06)
LB Eddie Robinson, Jr. (1992-95, 1998-01)
CB Samari Rolle (1998-04)
WR Chris Sanders (1995-02)
S Lance Schulters (2002-04)
DB Rayna Stewart (1996-97)
CB Michael Waddell (2004-06)
WR Nate Washington (2009-14)
OL Tony Washington (1997)
TE Martell Webb (2012-13)
RB LenDale White (2006-09)
WR Paul Williams (2007-09)
WR Roydell Williams (2005-07)
TE Frank Wycheck (1995-03)
Former Titans recognized on field as part of team's 2016 Alumni Weekend festivities. (Donn Jones Photography.com)