NASHVILLE, Tenn. — Joe Nedney feels for Vikings kicker Blair Walsh.
The former Titans kicker knows that 13 years ago today, in a playoff game against the Pittsburgh Steelers, it could've been him.
Because of a controversial call, however, he got a second chance.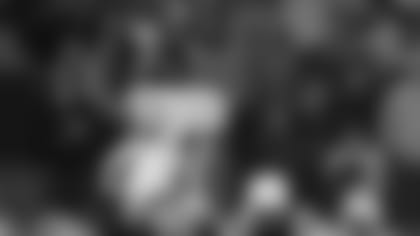 And he became a hero instead.
"The moment I saw what happened (Sunday) I had a huge flashback, and how I was almost Blair Walsh,'' said Nedney, referring to Walsh's miss on a 27-yard field goal in the final seconds of Minnesota's loss to the Seahawks. "The thing about Blair is he's been a solid kicker in the league, and he'll survive something like that.
"I was really close to being that guy. My career numbers weren't good enough to survive a miss like that in a playoff game. I would've been labeled a choker. That play, and that game, taught me so much about what to do and what not to do in a situation like that. I grew as a player because of that play."
Nedney was with his family at Disneyland on Monday when reached by Titans Online. On January 11, 2003 he was on center stage in overtime when the Titans played the Steelers in the AFC Divisional Playoff game.
With the game tied at 31-31, Nedney thought he'd won it with a 31-yard field goal in overtime. Fireworks lit up the sky after the kick sailed through the uprights, in fact. Only it didn't count because the Steelers called a timeout.
Moments later, Nedney missed his next kick. But Steelers cornerback Dewayne Washington was called for running into the kicker. Many of the Steelers felt the running into the kicker should not have been called.
"For a game to be decided on that call is ludicrous," Steelers coach Bill Cowher angrily said afterward.
On Monday, Nedney reflected on the sequence.
"I remember thinking during the fireworks display, "I'd better make this kick." I got so excited to kick the game-winning field goal I pulled my head and pulled the ball really bad. It was a horrible kick, one of the worst kicks of my career.  I can remember on the follow-through, looking up at the ball and watching it sail wide right and thinking, "Oh my gosh! I can't believe that I just missed," Nedney said.
"And then Dwayne Washington clipped me. And it was an instinct. It was, "OK, do I stand my ground and be a loser or do I hit the ground and take my team to the AFC Championship Game? I hit the ground and took the team to the AFC Championship. It's the playoffs. I did what I could do for my team."
Nedney made the game-winner from 26 yards after that, giving the Titans a 34-31 win. The final kick set off a wild celebration, and it sent the Titans to the AFC Championship Game the following week in Oakland.
It also set off a firestorm, especially after Nedney kidded afterward he might take acting lessons after his playing career ended.
"I realized how far-reaching our sport really is when I was involved in that play,'' Nedney said. "I got hate mail from Steelers fans for a year. The same guy kept writing me letters. The following week in Oakland I hyperextended my knee and I got a letter telling me how horrible I was, and then I got another one telling me it was karma. The following September against the Raiders I tore my ACL in that game and the same guy wrote me another letter telling me "that's what happens to cheaters."
"… I got invitations to come to Pittsburgh to get my (butt) kicked."
Nedney said the official who threw the flag saw him later when he was with the 49ers and told him "I have taken so much hell for your flop. He was mad at me."
Nedney played six more seasons (2005-2010) after his final year in Tennessee in 2004.
He'll never forget January 11, 2003.
"That was the turning point in my career, man,'' he said. "I went from the bottom of the very bottom, to moving on to the AFC Championship Game. It was an unforgettable feeling."
In one of the classic finishes in franchise history, Joe Nedney's game-winning field goal defeats Pittsburgh in a 2002 AFC Divisional playoff game in Nashville. (Photos: Donn Jones, AP)