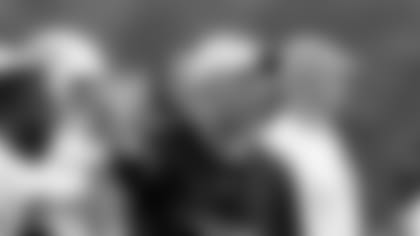 Former NFL quarterback Dave Ragone brings a unique perspective to coaching receivers.
NASHVILLE, Tenn. — Dave Ragone is passing a unique perspective to Titans receivers.
The 32-year-old former quarterback and first-time wide receivers coach knows what QBs want to see when they go through their progressions. Ragone, who played quarterback for Louisville and spent three seasons with the Houston Texans, has communicated that information through a hands-on teaching style on the field and in the meeting room.
"Coach Ragone has a different insight that a lot of guys don't have," Nate Washington said. "He knows from his experience what he expected from his receivers in specific situations."
Washington said Ragone is helping Titans receivers understand offseason signee Matt Hasselbeck's timing, reads and thought processes in the pocket — essentially "every in and out that a quarterback can think about."
Washington added that Ragone has emphasized body language and attention to detail on "small, minor things."
Ragone's work with the receivers and the performance of Hasselbeck helped the Titans post their second-most prolific passing day since 2005 in a 26-13 win against the Baltimore Ravens on Sept. 18. Hasselbeck completed 30 of 42 passes for 358 yards, connecting with Washington seven times for 99 yards and Kenny Britt nine times for 135 yards and a touchdown against the Ravens.
The Titans followed that performance with Hasselbeck completing 27 of 36 passes for 311 yards in a comeback win against Denver Sunday. Hasselbeck connected with Washington eight times for 92 yards and with Britt three times for 18 yards before Britt tore his ACL and MCL in his right knee. The injury ended Britt's third season abruptly. He had begun the weekend atop the AFC in receiving with 14 catches for 271 yards and caught the first three touchdown passes thrown by Hasselbeck as a Titan.
The lockout dramatically shortened the period in which teams could sign free agents. It also prevented teams from holding organized team activities, emphasizing the need for the new quarterback to quickly connect with receivers in a new offensive scheme. Britt, who missed substantial time in the preseason because of a hamstring injury, said Ragone's background accelerated the learning process.
"It went from our vision being outside the pocket to inside the pocket, what the quarterback is looking at," Britt said in an interview the week before his injury. "I learned that the timing of routes really plays a lot into our offense and into what the quarterback's thinking and where he should go with the ball. You should be running at 100 percent and clearing it out for somebody else."
New Titans coach Mike Munchak said he's pleased with the job that Ragone has done in delivering messages and developing players.
"He sees the game through a quarterback's eyes," Munchak said. "He has played the position so he can teach these guys maybe some other things like, 'Why the ball isn't coming their way, what it will take, why you have to run your route a certain way, the negatives of breaking off a route too soon or not coming back to the ball.' I think he can kind of put it more in perspective for them."
Eighteen of the 32 NFL receivers coaches played the position in college and/or in the NFL, five were quarterbacks, five were defensive backs, three were running backs and one was an offensive lineman.
Ragone and Frank Reich (Indianapolis) are the only two former quarterbacks who are in their first season as receivers coaches.
"I don't feel out of place," Ragone said. "What I say to them is something I believe, and it comes out natural."
That's what Munchak expected in hiring Ragone, who had played for new offensive coordinator Chris Palmer in Houston and had assisted Palmer as quarterbacks coach of the UFL's Hartford Colonials in 2010.
Ragone said the offensive plan is "to try to do give (each receiver) the ability to be in a position to make plays" and he's tried to instill to players that there is always an opportunity to get better. He has receivers field extra catches from a machine after practice, and isn't shy about jumping into a drill when a teaching moment presents itself.
The Titans' five receivers have 18 years of combined experience. Lavelle Hawkins is in his fourth season, and Damian Williams and Marc Mariani are both in their second year, so there are many learning opportunities. Washington, 28, is the Titans' senior-most receiver with seven years in the league. He said he's not surprised by Ragone's enthusiastic teaching style.
"He knows a lot about the game and he still loves to get in there and get a little action," Washington said. "We have to remind him that he doesn't play anymore. He's still got a rocket on the end of that shoulder. He's very passionate about the game. He loves the game itself. He loves working with us and making us better."
Hawkins struggled to find playing time when the Titans kept more veteran receivers in 2010. He caught five passes for 61 yards in six games last year, but he's excited about more opportunities this season. He caught three passes for 22 yards against Baltimore, including an important catch on third down in the fourth quarter.
Hawkins said he has appreciated the patience that Ragone and Palmer have shown while they have taught.
"It's not like they give you a play and say, 'Run it right now.' If there is a mistake, they understand," Hawkins said. "I think it's going great. It all starts with the coaches. If the coaches aren't patient, the QBs aren't patient. It's a trickle-down effect."
Hawkins also joked about the competitor that remains in Ragone.
"I think Coach Ragone thinks he's still playing," Hawkins said. "I think this is a set-up. I don't think he's going to be with us for too long because I think he's going to play with somebody."
Ragone is left-handed, so the spiral of his throws spins the opposite direction of those thrown by right-handed QBs Hasselbeck, Jake Locker and Rusty Smith. Ragone said players sometimes complain about the spin in jest but he's used to it.
Last week after practice Ragone lined up the Titans receivers horizontally on their sides on the practice field grass and worked his way down the line. Ragone threw the football from a short distance and each receiver, using only his hands, made the difficult catch. The drill was designed to make the receivers concentrate and rely on their hands.
Munchak said he appreciates the energy and thought that Ragone brings to the drills and said the receivers are seeing the results.
"As they are having success they are realizing that a lot of things he is doing is really helping them," Munchak said. "That's what he is here for and he has done a great job so far, and they know that anytime you are getting the ball thrown your way and making plays, the excitement grows and the work ethic and you push harder because you realize that, 'This ball could come to me,' so that makes it exciting for them."